Two Decades of Excellence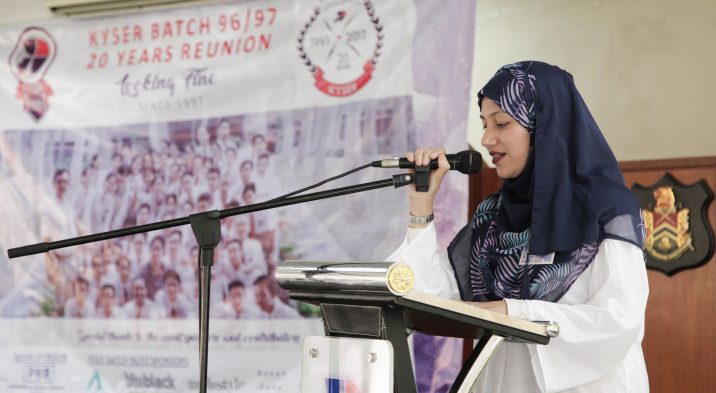 Be the first to get latest stories.
Follow Cemerlang's Telegram channel.
by Hetty Marini Syed Ahmad | Dec 2017 
Assalamualaikum and good afternoon to our beloved Tan Sri Halim Saad, Mr Tan Cheh Li, and all the teachers and KYSERS present. It is really good to see everyone again. On behalf of the working committee, I would like to thank everyone for making time to attend this joyous occasion. A special thank you goes out to my fellow committee members, who have worked tirelessly to make this event possible. Some of them have even graciously sponsored part of the event despite not being able to be here today. Thank you so much.
I would also like to thank the spouses and children of our alumni. What a sacrifice you are making today by ruining a perfectly good Saturday having to listen to your husband/wife/mom/dad share hilarity with a bunch of friends you don't know and listen to stories that you can't relate to. I apologise, that today you will mostly feel very left out. But fret not, we do have some fun activities planned later to make up for it..
Time flies. So much has changed! Our looks, our receding hairlines, our waist-lines, our addresses. And change as they say is the only constant. And by now, we have had our fill of it, I'm sure. We got educated or trained, we got schooled. We adapted to technology! Some of us got married and became parents, some of us early, some of us later. Some have travelled far for work, some gave up high paying careers in order to make a difference to the world.
Being back in this dining hall brings back so many memories. After all we were here for at least six times a day back then. I remember the high table dinner Fridays which was quite a harrowing experience (imagine if you drop a spoon with the hall watching you eat your Vienetta ice cream)!
Now speaking of that, I'd like to take you back in time.
Some twenty years ago, when our parents signed us up for a selection programme in a little known school by the PLUS highway, we were sceptical to say the least. Some of us were already about to enrol in various Sekolah Berasrama Penuhs and MRSMs but our curiosity made us agree to attend the two days one night programme. Despite the rather strenuous obstacle courses (I still remember failing the wall test as I'm sure most of you do as well) and the nerve-wracking interviews with the stern panel, we all left the school that Sunday morning knowing deep in our hearts that this was the school we wanted to be in. Maybe it was the fully air-conditioned theatrettes and classrooms or maybe it was the state of the art music room and the 300 metre swimming pool (longest in South East Asia back then, I'm not sure now) but from knowing very little about KYS, it suddenly became our dream school.
And a dream it actually was. We only had to bring the clothes on our back to the school when we accepted the offer. From school uniforms, to sports attire and even school shoes were given to us for free. And remember the watch? I wish I hadn't lost mine…
The two years we spent in KYS flew by so fast. But we learned so much during the short time. Of course how could we not when we had the best teachers as our guides and the most wonderful non-teaching staff which felt more like family than anything else. Being here gave us exposure to areas that would not have been possible had we been in a normal public school, for example, the music lessons, drama lessons and the various sports activities. Yes, unfortunately none of us (at least not from out batch) left the school as athletes or proud sportsmen and sportswomen but at the very least most of us learned to swim! We grew from timid sixteen year olds to confident SPM leavers thanks to the many activities we were exposed to here, whether by choice or by force!
Tan Sri and beloved teachers, we believe you would be proud to know that from our beginnings here in KYS, some of us have spread our wings to different parts of the world to seek knowledge, for career advancements as well as for charitable causes, which is why some of them cannot be here with us today.
"We have among us medical professionals, teachers, marketing and finance specialists, accomplished entrepreneurs as well as successful homemakers.
Despite all the different fields pursued, we all share the same end goal which is to pay back to our communities and the nation at large what we received during our time here in KYS."
To our beloved teachers who are here with us today, thank you so much for making the time to come back here during the school break for this occasion. We can never thank you enough for everything that you have done for us. We have lost some of our teachers too; some of those dear people who ushered us into adulthood are now gone. But the gifts that you have given us, we will carry with us for the rest of our lives. For two years, you played the role of our mother, father and guardian. You knew us when we were sixteen year olds whose main concern was what movie will be playing at the Great Hall this weekend and when is the next outing? We are grateful to have such dedicated teachers and staff who played a significant part of our life in KYS. It wasn't always easy being the pioneering batch to sit for SPM. We were set high standards to meet as the senior students with our juniors looking up to us at all times; talk about pressure! The teachers and support staff played a huge role in helping us through all that with their constant guidance. KYS definitely sets the bar in terms of high quality education and in providing excellent support for its students.
We definitely took a leap of faith coming to KYS in 1996 when the paint was barely dry. But Tan Sri, you took a bigger leap of faith, building the school out of love for your late father, and choosing us out of the thousands of young hopefuls to be a part of the centre of excellence that we will always call home. It is a decision that we hope you will never regret as we certainly don't. Being part of KYS has certainly played a huge part in moulding us to be the people we are today. And as the first batch to sit for SPM in the school we definitely feel responsible to ensure that the KYS alumni will someday sit at par with the likes of MCKK, TKC and STF to name a few. We have so much more yet to learn but with the help and guidance from your good self and our dear teachers in KYS, we hope to someday get there.
"Tan Sri, to say that we are grateful to you and KYS for some of the most important years in our lives would be an understatement, as we would not be here today without your vision and most importantly generosity."
Now let's enjoy the food prepared to us with love by the catering staff of KYS and party like its 1997 again!