A night of reflection and aspiration: celebrating Tan Sri Halim's 70th birthday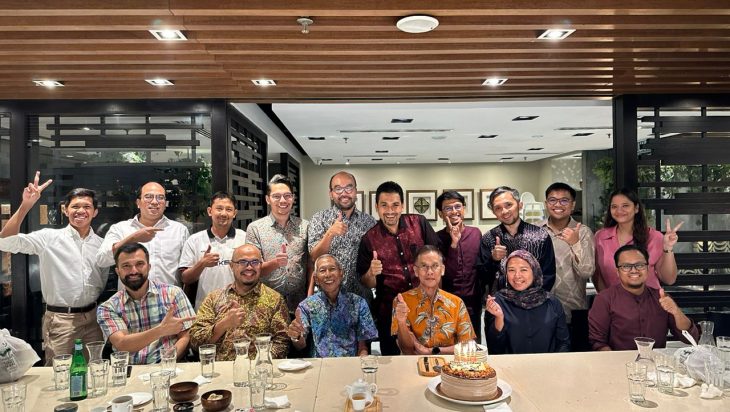 Be the first to get latest stories.
Follow Cemerlang's Telegram channel.
On the auspicious occasion of Tan Sri Halim Saad's 70th birthday, alumni of Kolej Yayasan Saad (KYSER) gathered to not only celebrate this milestone but also to embrace the invaluable guidance offered by the founder of our beloved alma mater. TS Halim, as he is fondly known, has not just built an institution but created a legacy that continues to nurture and inspire generations of students.
Amidst the elegant setting adorned with the reminiscences of the past and an atmosphere radiating warmth and camaraderie, TS Halim's words of wisdom resonated with profound clarity. This memorable evening was a testament to his unwavering dedication to education and the empowerment of the young minds he so passionately believes in.
KYSERs, have had the privilege of receiving a quality education, thanks to TS Halim's support. As a group of individuals moulded and inspired by the values and principles ingrained during our years at KYS, we listened intently as TS Halim shared his thoughts and aspirations for the future of the alumni.
His words were imbued with a sense of responsibility and a call to action:
Paying it forward
TS Halim encouraged KYSERs who are now comfortably placed in life to embrace the spirit of giving. By contributing to the education of underprivileged children, we can extend the legacy of opportunity and empowerment to those in need.
Stepping out of comfort zones
His call for KYSERs to transcend the boundaries of comfort, to explore, innovate, and venture into the world with a proactive mindset echoed the spirit of entrepreneurial resilience.
Courage to embark on new journeys
He urged us to muster the courage to start our own ventures, identify niches, and capitalise on opportunities that surround us – a sentiment reflected in Robert Kiyosaki's ideology of how "A" students often work for "C" students.
Leading society and fostering unity
TS Halim envisioned KYSERs as leaders steering societal progress, and underscored the importance of unity and solidarity among the alumni.
In echoing TS Halim's wisdom, we, the alumni, are reminded of the profound impact KYS has had on our lives. As we celebrate his 70 years of visionary leadership and unwavering commitment, we are inspired to carry forward his legacy of excellence, empowerment, and contribution.
To the esteemed Tan Sri Halim Saad, happy 70th birthday! Your wisdom and generosity continue to illuminate our paths, instilling in us the conviction to reach for the stars while remaining rooted in the values that define us as KYSERs.
We pledge to honor your legacy, nurture the seeds of wisdom you've planted in us, and strive to uplift others as you have uplifted us. Together, we shall build a future that reflects the essence of KYS – a beacon of excellence, character, and contribution to society and the world at large.