Cemerlang's Career Launchpad: Medicine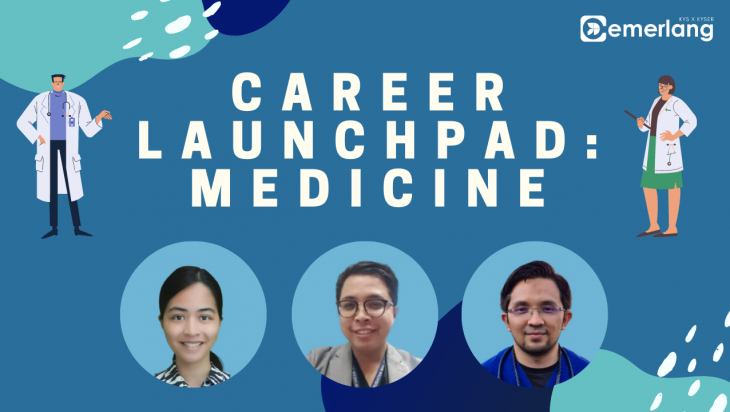 Be the first to get latest stories.
Follow Cemerlang's Telegram channel.
Stay updated with the latest intriguing stories on education pathways, career development, special insights, exclusive interviews, KYSER & KYS news and more by following our Telegram channel here.
What We Cover
Which medicinal pathway should I take?
What do I have to expect in medical school?
Where do I go after medical school?
How can I prepare for medical school?
What are the prerequisite exams I have to take to become a doctor?
What can I do as a doctor to help with the pandemic especially during MCO?
Code black movement and how do we face it?
Meet The Panel
Dr. Wan Hanaa Mardhiah Wan Zainuddin
She completed her Bachelor of Medicine and Bachelor of Surgery (MBBS) degree at the Imperial College School of Medicine, London and was later awarded her BSc in Surgery and Anaesthesia. She is currently pursuing her Master in Paediatrics at University Malaya Medical Centre.
Dr. Ahmad Khairil Faizi Rosli
He completed his Bachelor of Medicine and Bachelor of Surgery (MBChB) degree at the University of Edinburgh and had obtained his Master of Laws in Medical Law & Ethics. He received his Bachelor of Jurisprudence, Law from the University of Malaya, Kuala Lumpur. Later on, he obtained his Master of Studies, Practical Medical Ethics from the University of Oxford. Dr. Faizi is currently the Director of Ethics & Legal Division of the Malaysian Medical Council (MMC).
Dr. Mohd Afiq Bin Mohd Nor
He completed his Medical Degree (MD) at the Russian State Medical University, Moscow, Russia. He obtained his Master in Emergency Medicine from the University of Malaya, Kuala Lumpur and is currently a specialist in the Department of Emergency Medicine, University Malaya Medical Centre.