A New Milestone, Axcidora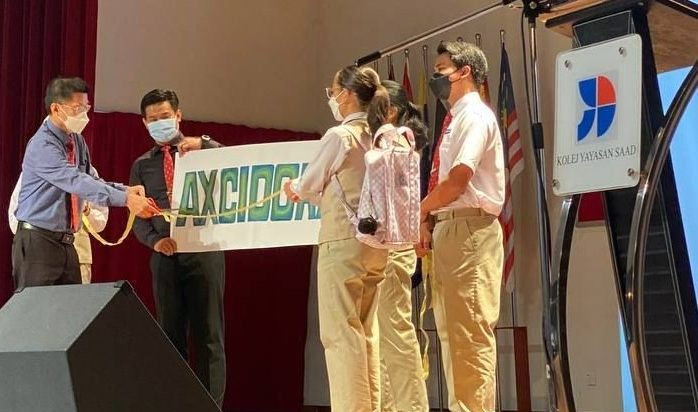 Be the first to get latest stories.
Follow Cemerlang's Telegram channel.
By Sonia Aira and Syahmi Haziq
14th February 2022 marked a very special day for each and every member of batch 1923. A day where our bond as a batch was stronger than ever, the very day that we, batch 1923, stepped down from the title of "juniors" and retired from the name "Batch 1923". 
We held a simple batch officialising ceremony. Due to the COVID-19 pandemic, sadly, the original plan to organise an official batch launching had to be cancelled. However, the pandemic did not hold us back from months of discussions and planning as we felt a strong need to have our batch identity officialised even if it was just a small ceremony.
The members of the High Committee of Batch 1923 organized the event with the help of our batch coordinator, Mr. Anas. To kick start the event, the emcees, Aleeya Husna and Mohammad Fares gave a brief insight on the bond we share as a batch through a witty speech. Following that, they invited Maryam Zahra, the representative of Batch 2024, to give a word or two of her hopes for our batch in the future. She stressed on how she and her fellow batchmates were sharing second-hand emotions with us as they were the ones who started off as our college brothers and college sisters which has now become family to us. 
The batch leader of Batch 1923, Danish Deniel shared his thoughts on how it was seeing us grow as a batch from the eyes of the one who led us to be who we are today. "Despite the challenges, we always come out better than we were before," said Danish. He felt that we have proven our potential as great leaders from the positive outcomes of the many activities held during the Chinese New Year holiday, which was our starting point as event organizers. Given the near-impossible deadlines and being preoccupied with other activities, there was nothing we could not achieve if we put our minds to it. Danish continued expressing his utmost gratitude to the people who groomed us into the best people we could be, our beloved teachers.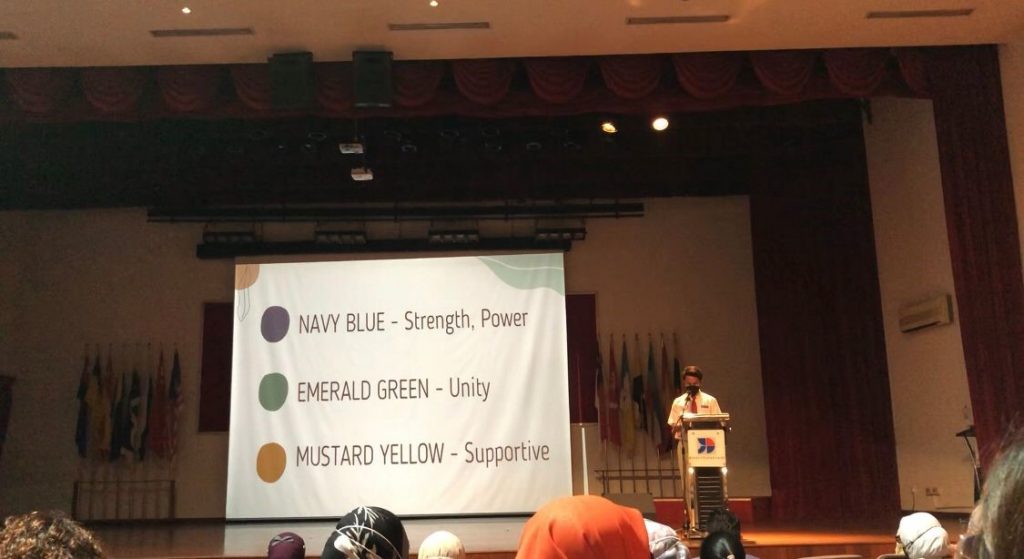 The event then continued with a montage presentation prepared by our batchmates. The filming and editing took weeks, but thanks to everyone's full cooperation, the montage came out nicely and touched the hearts of many, as it neatly combined our captured memories together. Of course, the highly anticipated and long-awaited detail was saved for the pinnacle of the montage; Axcidora. To further familiarise everyone with our profound identity, a PowerPoint presentation was presented to the students and teachers. It comprised detailed explanations of each crucial component in the build-up of 'Axcidora', with our motto being, 'Per Aspera Ad Melliora' (Through hardships, towards better things).
On the aesthetics side,our dashing colours are navy blue, emerald green, and mustard yellow. These colours represent strength and power, unity and supportiveness respectively. Finally, the name 'Axcidora' was structured based on the main foundation of our batch; our qualities. We believe that we are reliable, winners and challengers. Thus, we decided to lay out our choices of words from a variety of languages. In the end, we went with Axiopistos (Greek), Vincitore (Portuguese), Desafidora (Corsican) which were fused to create the name 'Axcidora'.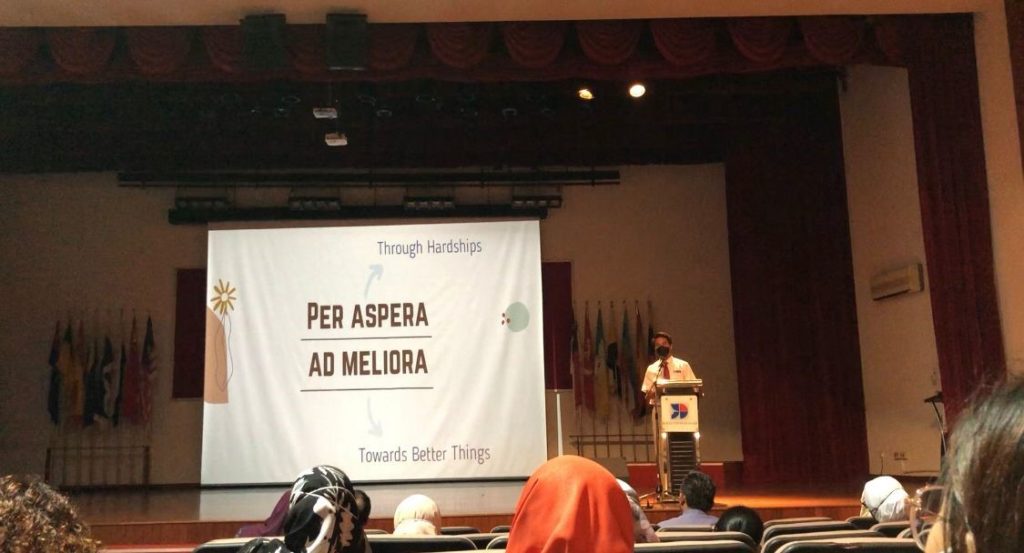 Principal Tan Cheh Li gave a heartfelt speech at the end of the ceremony. He congratulated us on the success of the batch launching, despite facing setbacks, difficulties, and the fact that it had to be delayed for more than a year because of unavoidable circumstances. Stepping into a new stage of what is left of our small fraction of high school life, he wished us luck and all the best for our future endeavours. 
Ultimately, it was an immense relief that this long-awaited ceremony was a great success with the patience and persistent effort of everyone involved. It is certain that 'giving up' has never been in our dictionary. Be it '1923' or 'Axcidora', our batch will always strive to be better and that we all share the same principle; success is tethered to you when you decide to take the first step. With consistency, you will reap what you sow. Per aspera Ad Melliora!