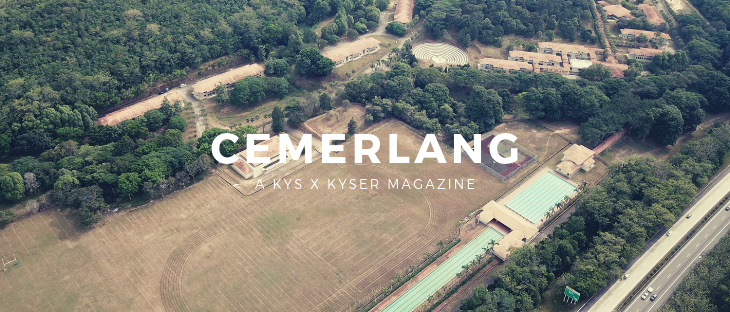 Be the first to get latest stories.
Follow Cemerlang's Telegram channel.
A Welcoming Note by the Editor-In-Chief, Arianna Saiful
2019? Been there, done that.
2020? Here we come!
Assalamualaikum and good morning, dear readers. My name is Arianna Saiful and I am Cemerlang's Editor-in-Chief. Welcome to Kolej Yayasan Saad's magazine website, Cemerlang!
You may be wondering, if you're new to this school. Cemerlang… what's that? Well, essentially, Cemerlang is about us. All of us – the teachers, non-academic staff and of course, students of Kolej Yayasan Saad. This website is a way our opinions will be heard  in a platform you are quite familiar with. It is the way in which we will be able to amplify the voices of the under-appreciated invisibles of our school. It is also how individuals will finally receive the recognition that they deserve for the achievements that they have attained. With Cemerlang, every word uttered and every action done will forever be etched and engrained in history. 
We are Cemerlang and we pledge to strive to preserve the past, cherish the present and create the future.
So did all of that catch your attention? I hope it did because the whole point of that little inspiring opening was to squash the stereotype that most of you might have regarding Cemerlang – that Cemerlang is just some old unvaluable school newsletter full of boring events that you don't care about because all of that couldn't be far more from the truth. 
In essence, Cemerlang is a platform that allows all of you, whether you're a student, teacher, staff member, parent or even a member of the public, to share advice and also opinions with not only the whole school but also the whole world. 
Indeed, Cemerlang will affect our little kolej community in a positive way. And that's absolutely great! We wish to thank the management and our advisors for giving us invaluable advise and assistance to get us up and running. I sincerely hope that all of you contribute to and support Cemerlang during your days as a student in Kolej Yayasan Saad.
Thank you!
A Welcoming Note by the Head of Music Appreciation, Nik Hazeeq Mirza
Wait, what's that sound? Do you hear that? That, my friend, might be the sound of our new Cemerlang vision for the brand new decade. For a solid two decades and a half, KYS has opened its doors to many young and talented teens, having the opportunity to unlock their musical talents right here in the proud lands of KYS.
We are hoping to see a bunch more of KYS's music-related activities such as KYS Musical, KYS Band, KYS Union Nights, and obviously, the apex of our music education, the KYS Orchestra!
The year 2020 will be an invigorating year for the Orchestra! Yes, you know what I'm talking about. The KYS Orchestra will broaden its horizon internationally! KYS will house its first ever KYS International Music Festival and expand the musical opportunities of our members in the future years.
Well, is that it? Of course not! We're hoping to get more avant-garde ideas from you! We're all hoping to get new implementation of music, aren't we? So, what are you waiting for? Write in for us now in the new decade of Cemerlang.
A Welcoming Note by the Head of Academic Excellence, Lilyana bt Rizal
Great academic records is one of the things that sets us apart from other schools. The majority of our student body thrives academically despite also taking up extra curricular activities. Don't believe it? That's what the Academic Excellence section is for! You can count on us to keep you up to date with our students' latest achievements! SPM? PT3? We'll keep you posted! Maybe we'll even drop some tips on how to maintain your impressive report card, just in case you need them.
Did you join the World Scholar's Cup? An exchange program? Surely, you'd be proud of your achievements even if you only got to participate. After all, Julius Caesar once said, 'Experience is the teacher of all things' So share those experiences, tell everyone about your study methods, your achievements and your experiences!
A Welcoming Note by the Head of Opinions, Irfan bin Adlan
What does China, Russia and your family have in common? That's right, freedom of speech or rather, the lack thereof. We never do realise the importance of this right until it's taken away from us. The fact that now, KYS has a platform to give opinions is really an achievement in of itself but it seems that we're not using it enough. And for that reason in 2020, I urge readers to share their opinions regarding anything, really. 2019 was filled with a lot of missed opportunities, from mass shootings and Uyghur detention camps all the way to Donald Trump's impeachment. In 2020, I hope readers can communicate more about what they want to hear about, or even write their own opinion piece! I think 2020 would be an interesting year but that's just my opinion.
A Welcoming Note by the Head of Character Development, Lau Weng Xi
One of the many things Kolej Yayasan Saad is known for is the prestigious school's ability to shape young teens into great leaders. How you ever wondered what programmes and activities the students take part in to shape such an important part of their lives? Well with the character development section of Cemerlang, you can read and learn how these young students develop the skills to become leaders capable of guiding our country to greater heights in the future. The articles focus on activities such as Ax-Factor which is held by the Axiata Young Talent Programme and many more! With all that said, do stay tune to see what the KYS students and KYSERs are up to in the year of 2020!!
A Welcoming Note by the Head of Community News, Alisya Razanah
Happy New Year to the KYS community! May 2020 be another great year for all of us.Our school is nothing without its community. Every year (or might we say every decade), the bond within the community strengthens as we face the inevitable. This year is a start of a new decade. With that said, be sure to watch out for community events such as Raya Dinner, House Camp and KYS Annual Dinner! Not to forget, our community involves YOU. That means we would love to see your updates and takes on our current events too! Let 2020 be the year where you take up the challenge and start expressing your views through this platform. See you in school!
A Welcoming Note by the Head of Sports Prowess, Muhammad Azmeer
If the field is in flux, 2020 is bound to be the year for opportunities and unambiguously be the year where Kolej Yayasan Saad will have a plethora of events which is sure to captivate the eyes of many. Besides that, the year 2020 will no doubt be a platform for Cemerlang to be more engaging and articulating in events held in this prestigious educational institution. The contours of the events in Kolej Yayasan Saad have come into focus for the new year and one of the prominent events of 2020 are Sports and Games that will be participated by the talented students of our dear school. The students never cease to amaze us by excelling in all forms of curricular and co-curricular activities. Sports education is highly prioritised in Kolej Yayasan Melaka.
Sports is not only limited to promoting a healthy lifestyle but is also capable of moulding an individual's moral values which will prove useful for them in the near future. Sports events which will be held in KYS include Cross Country, Sports Day, Aquathlon, KYS 10s Rugby Tournament, Swimming Champs as well as the traditional rugby matches against Victoria Institution, Malay College Kuala Kangsar and Vajiravudh College Thailand. Not forgetting, a new addition to the sports events in KYS which is FIT KYS would be added. Thus, may we all cooperate to provide an inclusive environment for our students. Thank you !