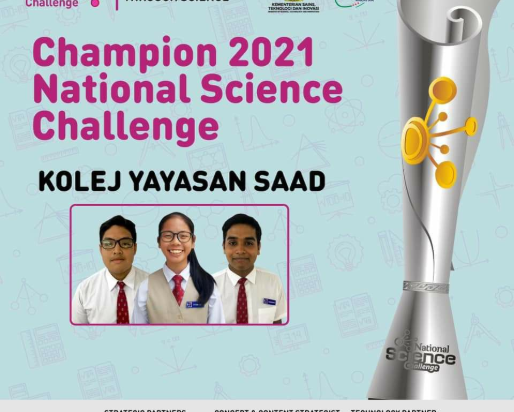 Be the first to get latest stories.
Follow Cemerlang's Telegram channel.
by Athena Siow
"The percentage of students in Science, Technology, Engineering and Mathematics (STEM) needs to be increased to 60 per cent to ensure the country has adequate talent pool with the skills needed in the 21st century." – Datuk Seri Dr Adham Baba, Minister of Science, Technology and Innovation.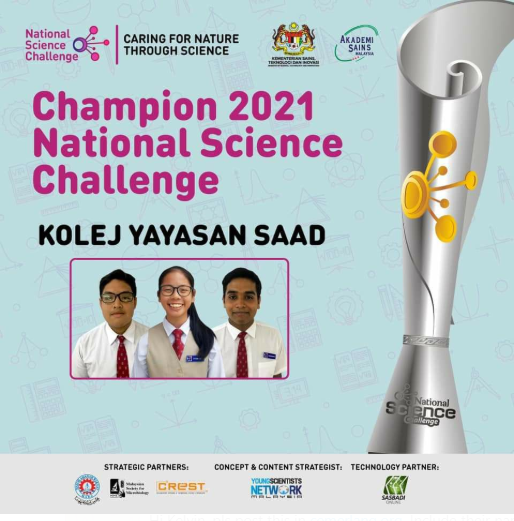 Since 1983, The National Science Challenge (NSC) organised by Akademi Sains Malaysia has been a prestigious science competition that is held annually in collaboration with the Ministry of Education Malaysia. Kolej Yayasan Saad (KYS) is no stranger to this renowned competition, being crowned winners in 2013 and 2017. This year however, there was a slight change in format due to the current COVID-19 pandemic. Most of the competition was conducted virtually.
From the preliminary quiz round, 2 teams from KYS were chosen to proceed to the state round, where participants were required to create a short video on how science has helped in the preservation of nature, as well as a slide presentation that includes three fields in Science (Biology, Chemistry and Physics). Two teams participated in this year's challenge:
Team T0189
Ken Alroy Devan S.O Noel Devan
Sidharrta Sivarou
Muhammad Adam Zachry Bin Mohd Ali
Team T0047
Aariz Salimee bin Ilhan Salimee
Athena Siow
Gaurakishor A/L Puvanasvaran
After a pleasant interview with the judges, our team successfully proceeded to the following stage, guided by our Biology teacher, Ms Nurul Ashima binti Hamdan and Dr Zaid Omar, Senior Lecturer at the School of Electrical Engineering, Universiti Teknologi Malaysia.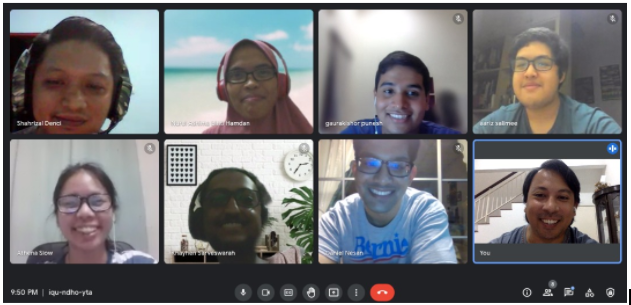 We had the opportunity to reach out to real life stakeholders with the help of our teacher and mentor.
Together, we faced a series of challenges and tasks throughout the semi-finals prior to be selected as one of the top 5 teams to compete in the grand final round. The journey was not a piece of cake, accentuated with hardships and late-night meetings while juggling our studies for upcoming examinations and other co-curricular activities. However, pep talks by our mentor teacher, and mutual understanding amongst team members fuelled us with the confidence and hope needed to push us through.
"This challenge is more than just a science competition, it is where we meet friends, learn, develop skills and at the end of the day, everyone's a winner" – Gaurakishor A/L Puvanasvaran (Xancordis)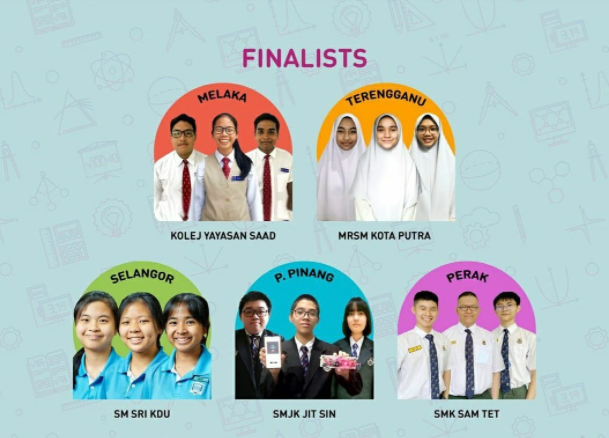 Qualifying for the finals itself was a huge accomplishment, a product of all the support from our teachers, mentors, families and friends.
The finals was a stream of brain racking challenges that tested the depth of our scientific knowledge with quizzes, spontaneous open-ended questions and Q&A sessions. We also pitched our ideas for a modern community-based farm dubbed as GrowBox. Throughout the event, our hearts were pounding as the 5 teams went back and forth trying to get questions right to be in the lead. With the support of our friends and teachers, we finally pulled through and emerged as the champions, reclaiming the coveted Prime Minister's Challenge Trophy, triumphing over 700 teams from high schools nationwide, and bringing glory back to KYS once again.
"I have learnt that in science, there's no losing, only constant development and improvement."- Aariz Salimee bin Ilhan Salimee (Xancordis)
Reminiscing about our journey, we realised that we have grown so much over the course of this competition. Not only has it allowed us to develop a further love for science, but we learnt that good communication skills and teamwork are also key elements besides knowledge. Through resilience of learning from past mistakes and accepting constructive criticism, we learned to persevere through challenges in order to reap the sweet rewards. In short, faith, teamwork, and endless amounts of effort definitely played huge parts in our success.
"STEM and entrepreneurship go hand-in-hand. Without research, there would be nothing to market but without publicity, no one would appreciate research" – Athena Siow (Xancordis)