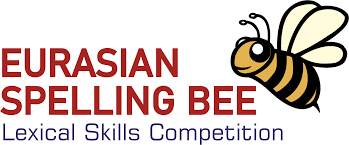 by Aina Alyssa bt. Sazali
The Eurasian Spelling Bee Lexical Skills Competition is an annual competition that tests students' English language abilities in different aspects such as vocabulary and spelling, both written and oral. Students from all around the Eurasian globe participate, many of whom come from Singapore, Uzbekistan, Vietnam, Philippines and Malaysia. The competition is divided into two distinct tests which are the writing and listening section, and an oral spelling test. Students compete according to their age groups, with level Bee 10 being the highest age group of 17-year-old students. Last year, Kolej Yayasan Saad (KYS) had its sole student participate for the first time ever. Read the article here. However, this year that total participation number amassed to 21 students, ranging from Form 1 to Form 4.
THE SEMI-FINAL STAGE
The competition spanned over six months, with the registration deadline at the end of April 2021. The preliminary round was held from 6-9 May 2021 and was conducted online as was done last year, due to the COVID-19 pandemic. Soon after, the results were announced and Kolej Yayasan Saad had a total of four semi-finalists. The semi-finalists were: Adeena Salimee binti Ilman Salimee (Form 2), Jasmine Hasya binti Junaidi (Form 3), Arissa Hani binti Naomi and Aariz Salimee bin Ilman Salimee (both Form 4).
THE FINALS STAGE
Over the course of the following months, the semi-finalists diligently prepared for the next round while balancing their academic work. The semi-final rounds were conducted virtually from 2-4 July 2021. The announcement of the finalists followed closely. Only two students from KYS managed to beat other international participants for a spot in the final round. The finalists from Kolej Yayasan Saad were Adeena Salimee binti Ilman Salimee (form 2) and Aariz Salimee bin Ilman Salimee (Form 4).
The final round was the stage that determined the merit, bronze, silver and gold medalists of the entire competition, with an average of ten international participants competing in one level. It was carried out online on 4 September 2021 and consisted of the same sections that tested our finalists' with harder and more challenging words. Waiting with bated breath, the overall results of the competition was finally released on the 3 October 2021 through a YouTube Live Awards Ceremony. Adeena Salimee binti Ilman Salimee was awarded the bronze award for her level Bee 7 while her older sibling, Aariz Salimee bin Ilman Salimee managed to grab the gold award for his level Bee 9.
          Congratulations to all the participants for their efforts that went into the competition, and to Adeena and Aariz for making KYS proud!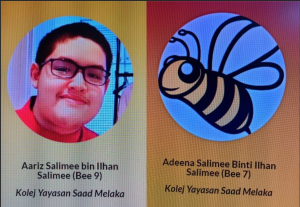 Below are some of the participants' remarks on the competition:
"From The Eurasian Spelling Bee, I have learnt many new words that can be used for my essays and also daily live conversations in the future. I also learn the importance of pronouncing words correctly and clearly so that others can understand what we are saying. Overall, the Eurasian spelling bee competition is a great competition to join, especially for students who want to improve their vocabulary and learn new words in English." – Arissa Hani Binti Naimi, Form 4

 

Arissa Hani

"

It was my first time participating in the Eurasian Spelling Bee Competition. I had learnt a few vocabulary words. Overall, the experience was great and thankfully there were no technical problems. I am looking forward to joining this competition next year

." –

Aeshlyn Kaur Ranjit Singh, Form 1


Aeshlyn