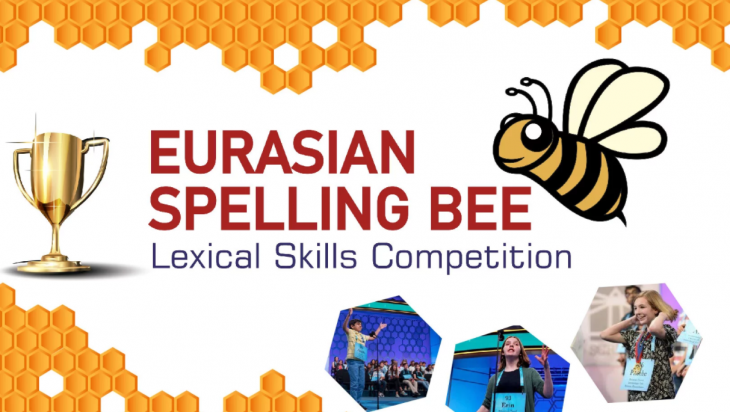 Be the first to get latest stories.
Follow Cemerlang's Telegram channel.
by Aina Alyssa bt. Sazali
"The best things in life are unexpected because there were no expectations." – Eli Khamorav
Did you know that the origin of the term spelling bee is unknown? [According to the official Scripps National Spelling Bee website]. Luckily for me, I certainly knew where my journey in the Eurasian Spelling Bee 2020 began. Over the course of July, stretching all the way to December, participating in the Eurasian Spelling Bee 2020 has been one of the most grueling but rewarding experiences in my life, and the knowledge learnt will no doubt prove to be of prominence in my future endeavours.
The Eurasian Spelling Bee Lexical Skills Competition was first introduced to me by a mere coincidence, catching my eye as I scrolled through the results of another competition I had recently joined. The Spelling Bee competition consisted of participants from all around Eurasia from countries such as Uzbekistan, the Philippines, Indonesia, Vietnam, and Thailand. It would not be a lie to say that I was hesitant at first; I had never taken part in a Spelling Bee competition, and I was certainly not the best speller. Nonetheless, Alexander Graham Bell once said, 'when one door closes, another one opens.' Though 2020 had profusely proved to be a giant omnishambles with the ongoing Covid-19 pandemic, I was adamant to explore and try my hand at just about everything — Spelling Bees included.
"I'm always trying new things and learning new things." – Morgan Freeman.
To my surprise, I had been fortunate enough to pass the online preliminary round that was held on 12 July 2020. The preliminary round had three sections: writing, listening and the actual oral spelling test. Taking it in stride that I was one of the 87 semifinalists from Malaysia out of 356 participants (excluding other international participants), I became optimistic that I could have a chance to make it into the final rounds that would be held at Gdansk, Poland in November 2020. However, to scale the heights doesn't take just one person, it sometimes takes an exceptionally dedicated and committed teacher to support you through it. I broke the news to my English teacher, Mr. Kevin, who in turn assiduously helped me prepare for the next round; the Semifinals, that was held on 9 August 2020.
When one has the right pillars of support, it is an indisputable fact that they can get through anything. As the semifinal round concluded and passed, I then became one of the 43 Malaysian finalists that would now have to compete against other international erudite students. Due to the pandemic, it was patently clear that travelling to Poland to compete in the final round was off the table. As with everything else in the world, the final round of the competition had to be taken to the virtual online platform as it did in the last two rounds.
Success is a journey, not a destination. The doing is often more important than the outcome. – Arthur Ashe
The final round on the 21 to 22 November 2020 approached rapidly and it was suffice to say that competing against other international students from the screen was just as nerve-racking as it could have been if it were held face-to-face on a stage, only that I wouldn't have to face the audience but instead had to stare directly into the eyes of my invigilator. It was certainly not a place where one could make a mistake especially when other participants left no room for errors, spelling each of their assigned words perfectly.
In the end, the final round finished just as swiftly as it came, and after an arduous time of competing, the real challenge was to patiently wait until the results could be enumerated and the winners announced on 5 December 2020. A few days before the announcement of results however, 3 of the participants from my level, myself included, were to be called back and had, as I would like to call it, a sudden death round. This was due to the fact that they had discreetly informed us that we had accumulated the same points and that we would have to spell as many words as possible before one us of made a mistake, thus a 'sudden death round'. To spare you the theatrics, one of us misspelled, and no, that person was not me.
'Knowing is not enough; We must apply. Willing is not enough; We must do.' 
–Bruce Lee
The 5th of December finally came around and the results were known through a livestream on YouTube. Prizes such as trophies, medals, internationally recognized certificates and electronic devices were consequently announced. At the end of the day, I believe the most essential thing that you should do whenever a benediction is given to you is to simply be thankful to the people who were around you to give you the support and encouragement you needed. I came in as a Silver Laureate, second place for my level but truthfully saying, it felt like it was enough, for what else can you do but feel proud when you've already given your best? This accolade was not my best achievement for the year of 2020 but it certainly felt like it was the most fulfilling one, because I share and owe that success to several of my friends, family, teachers and of course, myself.
Bruce Lee's quote above states that applying the knowledge of what we learn is important, thus I've covertly used some of the new words that I discovered in the Spelling Bee competition in this article. Good luck figuring which ones they are!
The virtual awards presentation ceremony. Aina Alyssa could be seen at 6:50 and 30:50 in the timeline.