By Dzuldiny Hussain bin Dzulkeflee, Jad Alfa Wafiyy bin Jamree and Irdina Aqeelah binti Ahmad Shahril
Every year since 1998, the Kolej Yayasan Saad Orchestra (KYSO) has been consistently putting up spectacular concerts without fail. Despite last year's Movement Control Order (MCO) in 2020 which was enforced in the midst of rehearsals, the orchestra still managed to hold a performance in September with less than four months of physical practices.
This year, the COVID-19 pandemic brought on a substantially bigger challenge, with schools only reopening in April, examination season starting the month right after, and schools closing during the examinations. Nonetheless, through all these hardships, KYSO still managed to rack up practice time to enhance students' knowledge of music. The orchestra achieved this by holding virtual sectionals via Google Meet and Jamulus, as well as doing musical activities during the Orchestra Club meetings held every other Thursday.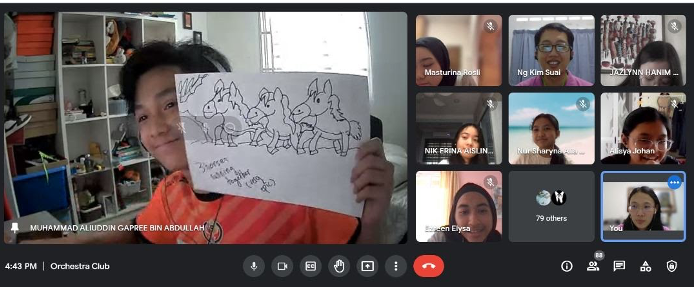 Through the sectionals, the orchestra members learnt from teachers and discussed amongst themselves how to further improve their individual skills as well as the ensemble techniques. Meanwhile, in the Orchestra Club meetings, members focused on general musical skills – visualising musical excerpts. The online gatherings were not held without disruptions though, as microphone and Internet connection problems sometimes happened, yet they persevered enthusiastically.
We urge everyone to stay at home and stay safe during these trying times in hopes that the number of COVID-19 cases will decrease and schools can be reopened soon. When that happens, the KYSO performers will finally be able to present the skills that they have honed despite the obstacles presented throughout this year.