[UPDATED] Liyana Farzana, Class 2006 launches a petition for Clearer Vaccination Info for Pregnant Mothers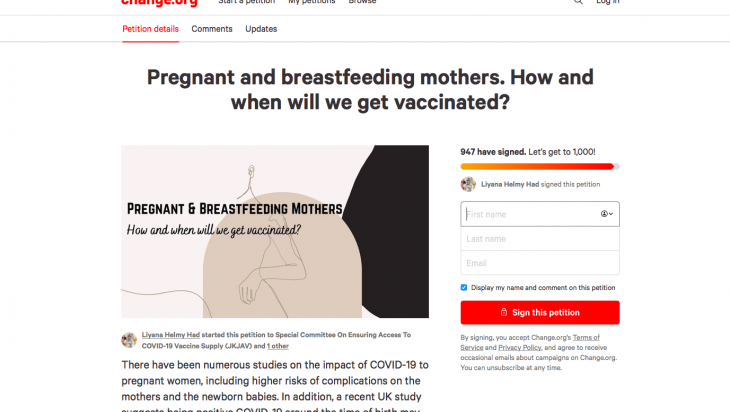 Be the first to get latest stories.
Follow Cemerlang's Telegram channel.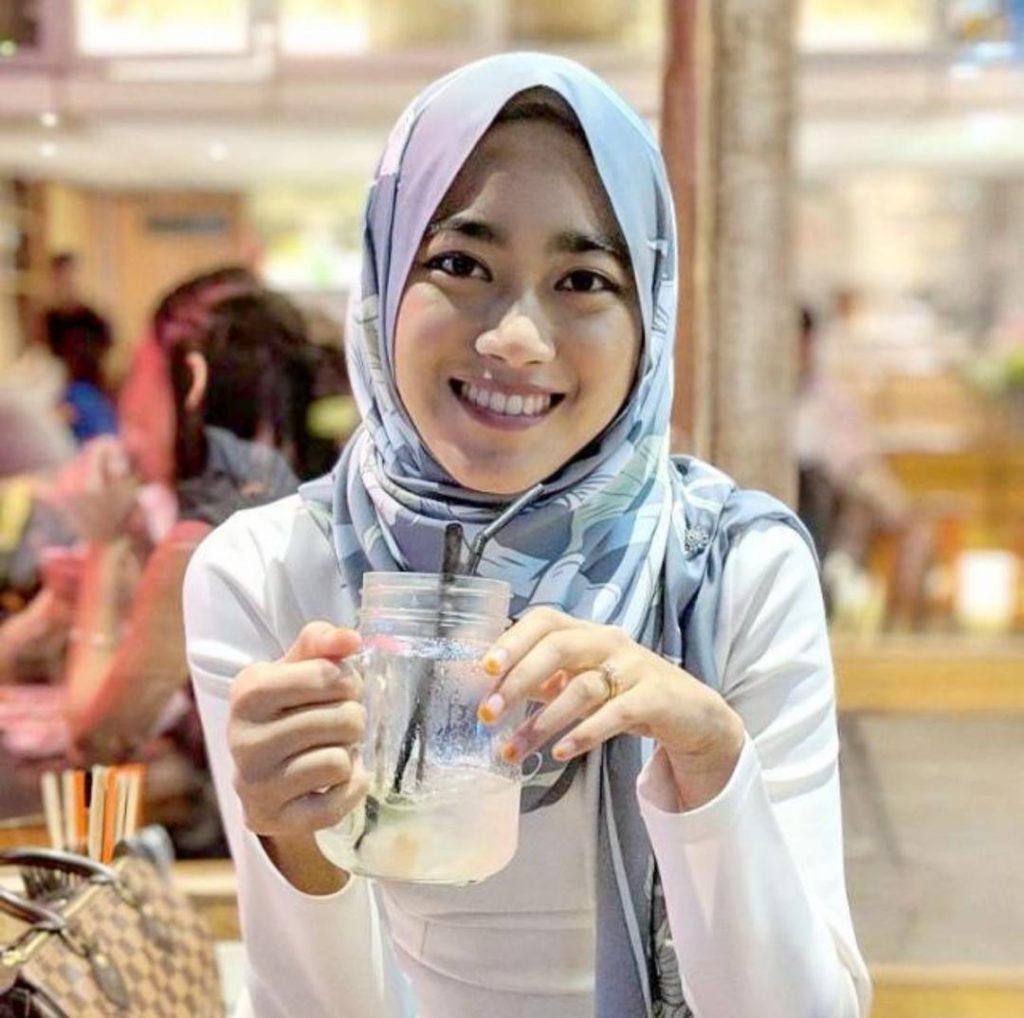 "All we know is that we're considered a high-risk group, and that the Pfizer vaccine is suitable for those between 14 to 33 weeks of pregnancy."

Liyana Helmy Had, Class of 2006
Liyana Helmy Had launches a petition, http://chng.it/nNHLX6TK6Q, intended to urge the Government to provide pregnant and nursing mothers more information on the vaccination plan.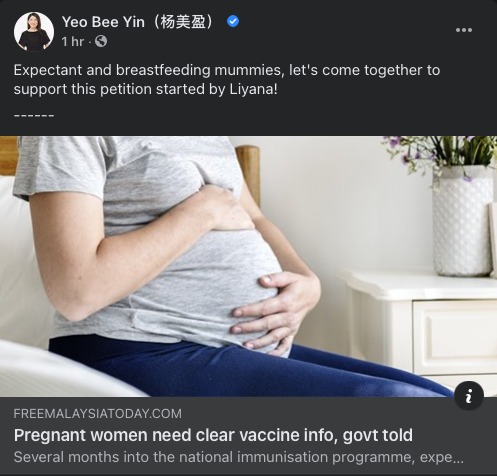 YB Yeo Bee Yin, former Minister of Energy, Science, Technology, Environment and Climate Change, has been actively advocating for more attention for pregnant mothers with regard to vaccination. She has called for everyone to support Liyana in her petition by sharing a post on her Facebook page.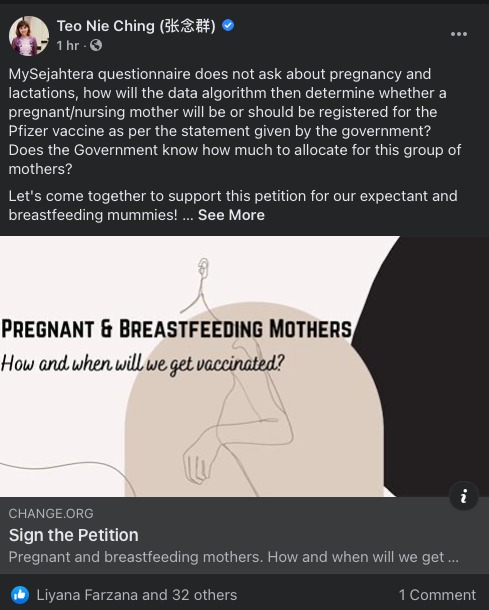 YB Teo Nie Ching, who served as the Deputy Minister of Education, has also raised her concern about the matter and brought attention to support Liyana's petition through a Facebook post. In her post, she questions how MySejahtera does not ask about pregnancy and lactation details which is worrying this group of mothers.
Her story is covered on Free Malaysia Today (FMT) and World of Buzz. To know more, click the links below to read the full article on FMT and World of Buzz.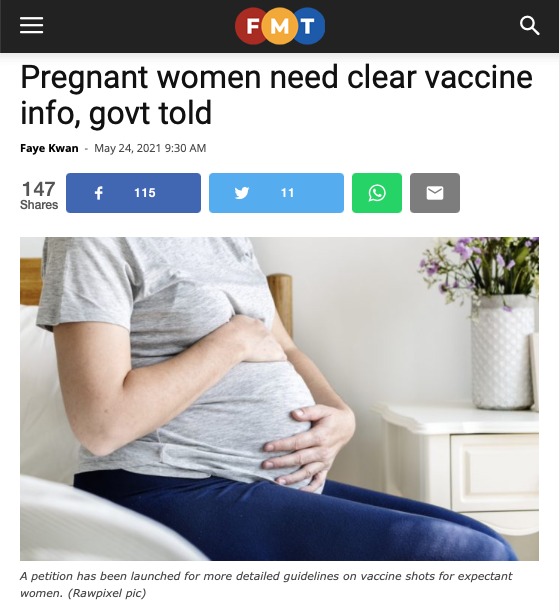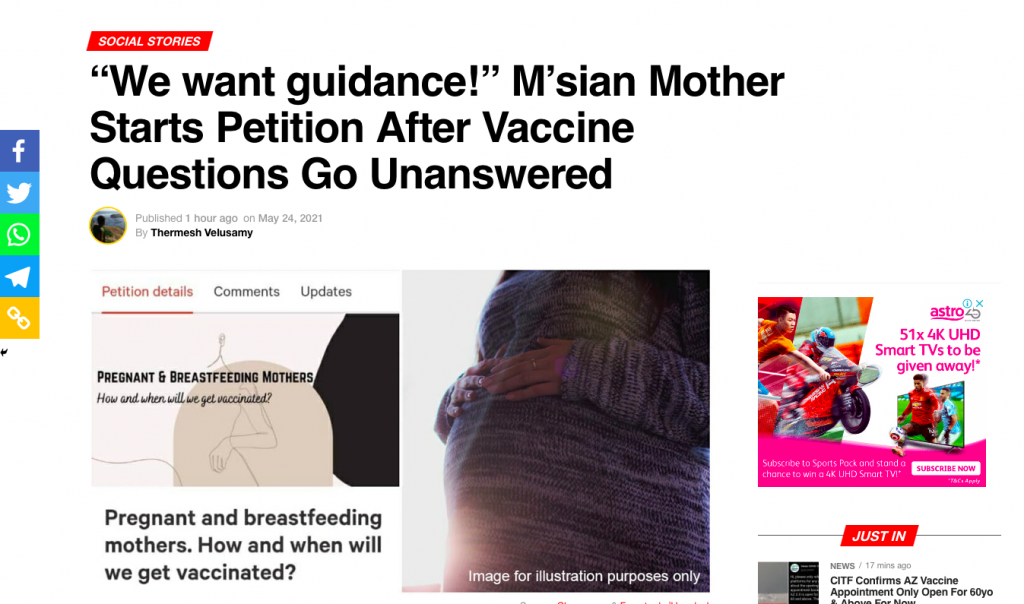 Liyana's campaign yielded results after it successfully grabbed the attention of Jawatankuasa Has Jaminan Akses Bekalan Vaksin (JKJAV). Shortly after, JKJAV released a guide on COVID-19 vaccines suitability for pregnant and lactating mothers. The procedure to book for Pfizer vaccine for pregnant mothers will be announced soon. Click here to see their latest advisory.
Liyana's petition achieved victory after acquiring over 4000 signatures. She shared an update that the government has finally included features on the MySejahtera app for pregnant and breastfeeding women.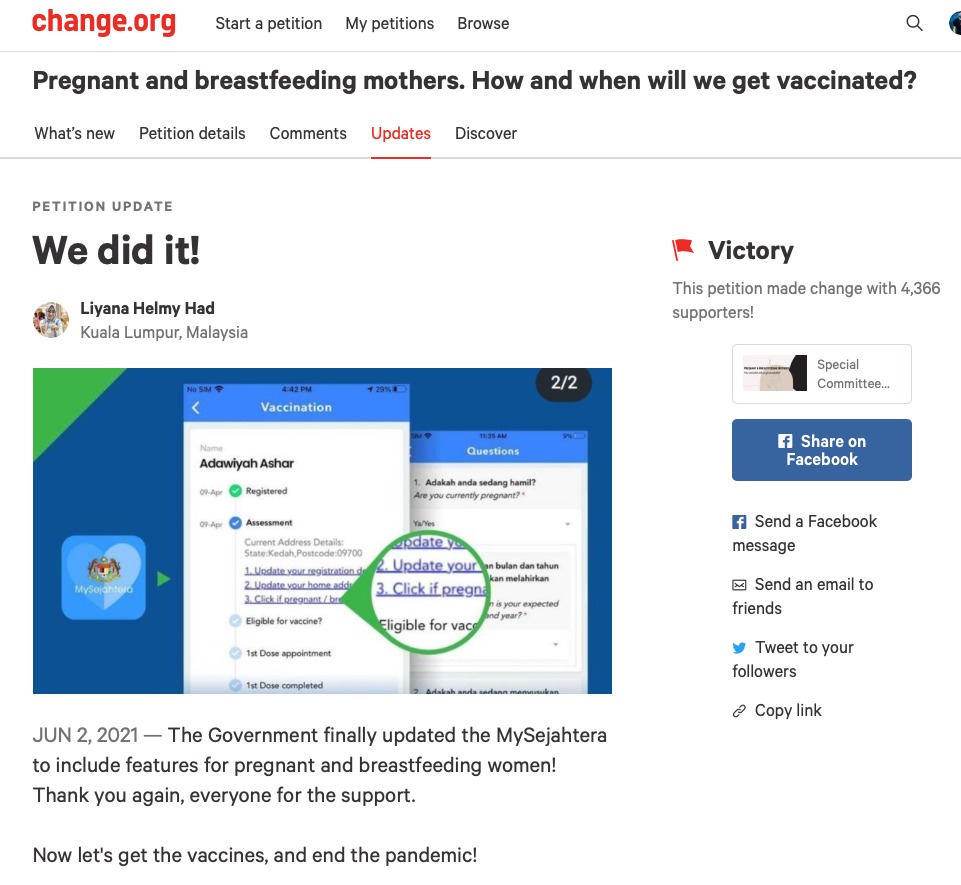 Her initiative has proven to make a huge difference as more and more checkboxes were added in forms as well as apps for pregnant and lactating women across Malaysia. Liyana's online petition has not only encouraged more women to express their concerns, but it has also gained importance to cultivate more engaged citizens.