Webinar: Securing Scholarship & High School Hacks
Be the first to get latest stories.
Follow Cemerlang's Telegram channel.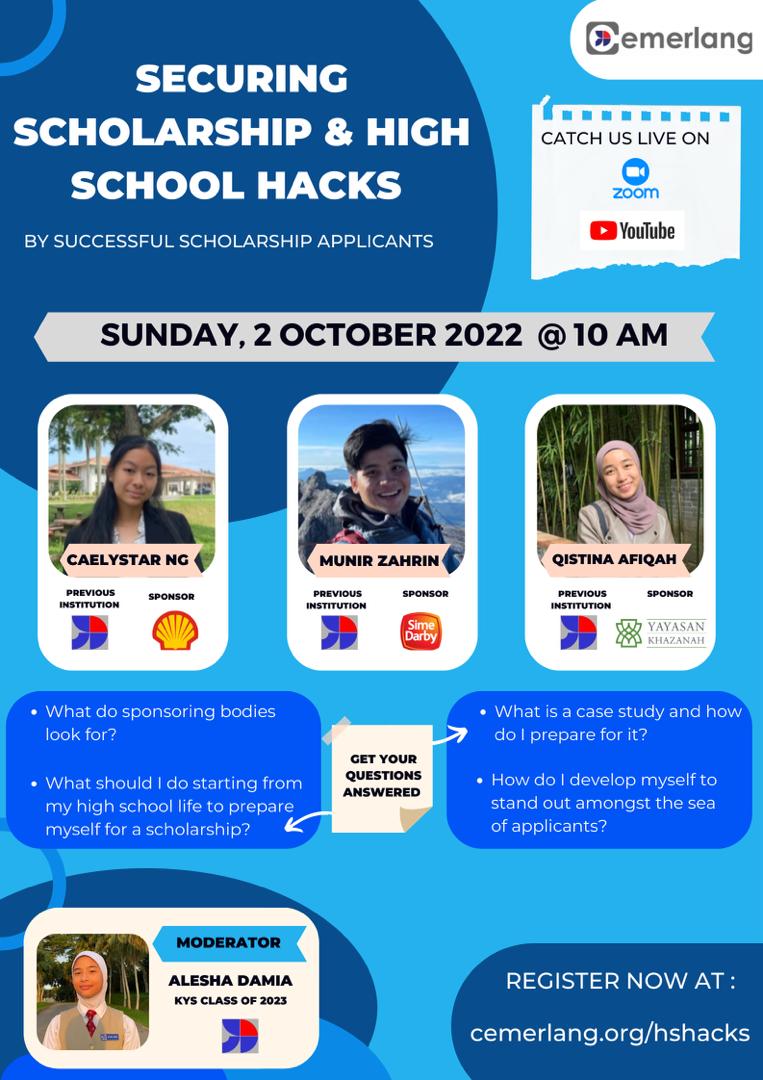 This 2nd October 2022, Cemerlang is hosting a webinar featuring three successful ex-Kolej Yayasan Saad students who have been awarded scholarships from Shell, Sime Darby and Yayasan Khazanah.
In this webinar, Cemerlang aims to allow students to understand the process of applying for scholarships. The contents include tips on how to nail interviews, prepare for case studies, and ways to develop yourself to stand out amongst other candidates.
What are you waiting for? Register Zoom today!
Meet the Speakers
Caelystar Valentina Ng May Zher
Caelystar is currently a Shell scholar at Kolej Yayasan UEM. Back in Kolej Yayasan Saad (KYS), she represented her high school for debate and has won multiple accolades in debating championships including overall best speaker in the Asia Scholastic Debating Championship in 2021. Outside of school, she is a member of the Project ID Student Outreach Team. She has also attended interviews with Bank Negara Malaysia (BNM), Yayasan UEM, Petronas, JPA, Yayasan Khazanah, and Taylors University Community Scholarship.
Munir Zahrin bin Mustamir
The Sime Darby scholar is currently pursuing his A Levels at Kolej Tuanku Ja'afar (KTJ). In KYS, Munir was actively involved in rugby and achieved first runner-up in the 2020 Rugby MSSNM championship with his team. On top of that, he won first place in the Celcom Young Digital Innovators Programme Competition for software track. He has also attended interviews with MARA, JPA, and BNM.
Qistina Afiqah binti Shaibi
Qistina was awarded the Yayasan Khazanah Scholarship this year and is now furthering her studies at Kolej Yayasan UEM. Alongside her stellar academic achievements, she became a silver medalist in the Maths E-Stream Waves Genius Board Game Competition. Apart from that, the former Deputy Head Girl 2 was ranked second in an Innovation Competition for Women's Scouts Jamboree in 2019. She has also attended interviews with BNM, Petronas, JPA, and MARA.