Junior Debating Championship: The first step into speaking out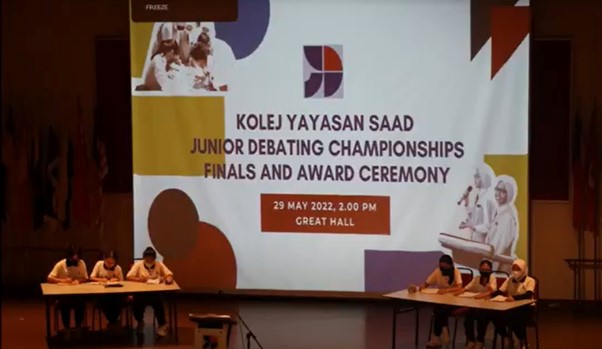 Be the first to get latest stories.
Follow Cemerlang's Telegram channel.
By Ashlyn Sheshynna
From the 27th until the 29th of May, the KYS Debating Union successfully hosted their annual KYS Junior Debating Championship (KYSJDC), an event where two different teams battled it out through an intense Asian Parliamentary Format Debate on various challenging motions.
The objective of this tournament was to encourage public speaking and debating among the Form 1's. Each class was required to send two teams consisting of three speakers each to compete.
It was clear that not only did their English proficiency and delivery skills improved, but the overall confidence that shone through each individual speaker blew the spectators away.
The event started with the KYS Junior Debating Championship Opening Ceremony and Crash Course held on the 20th of May in the Great Hall.
After a brief on the rules and basics of debating, the Debate Union members then proceeded with a mock debate, on the motion, "This House Supports Cosmetic/Plastic Surgery". This Crash Course allowed the students were able to get a good idea of how to debate.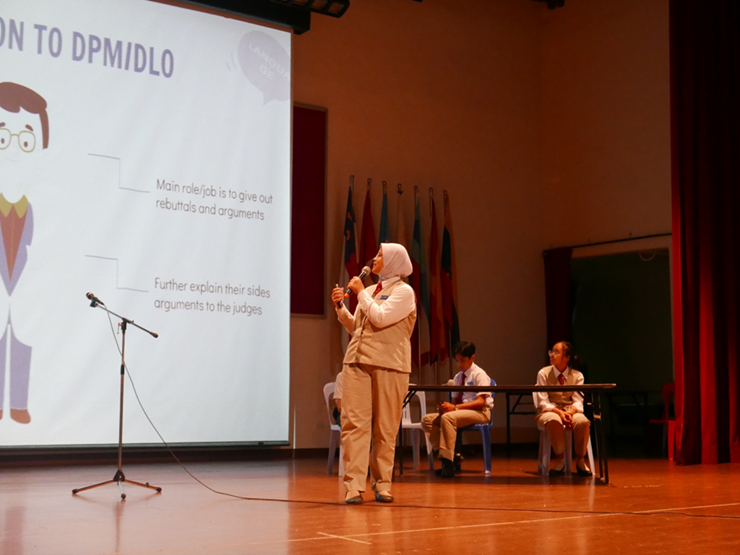 The following week then brought upon the preliminary rounds, then, later on, the semi-finals and the grand finals. Among the other motions released for this year's KYSJDC are as follows:
This House Would Ban Homeschooling
This House Supports Batman's No-Kill Principle
This House Believes That Money Can Buy Happiness
This House Believes That Not All Adults Deserve the Right to Marriage or to Raise a Family (Semi-finals)
This House Believes That Disney Should Strive Towards a More Realistic Portrayal/Depiction of Love (Grand finals)
Only two teams could make it to the grand finals. Through the rigorous rounds that filtered the best from the best, Rajin A and Gigih B came out on top. It was a very intense and interactive debate between the two teams.
At the end of the day, Rajin A emerged as champions of the KYSJDC on a very close 4-3 split. Here are our worthy winners:
Best Speaker Awards
Finals Best Speaker: Zara Naaz binti Mohd Rusdi, Gigih B
5th Best Speaker: Nur Alyssa binti Muhammad Arif, Taat B
4th Best Speaker: Nur Sorfeena Basirah binti Mohd Hairul Shah, Taat B
3rd Best Speaker: Sarah binti Ismail, Gigih B
2nd Best Speaker: Jood Ammar Bin Sazzli Shahlan, Jujur A
Overall Best Speaker: Aruna Dorairaj, Rajin A
Team Awards
Runner Ups of the KYSJDC 2022: Team Gigih B

Zara Naaz binti Mohd Rusdi
Sarah binti Ismail
Nur Nadhirah Sofia binti Mohd Farid
Champions of the KYSJDC 2022: Team Rajin A

Aruna Dorairaj
Diya Sofea Eryna binti Herry Zul
Nalisya Naqina Noor binti Marikh Azahari
Debate is more than being able to stand up for what you believe in. Debate teaches you how to command the room and be the voice of influence, a trait possessed by most leaders.
It is fair to say that the Debate Union saw incredible potential in these young debaters and the journey is just beginning. More debaters have joined the KYS Debate Union and we are as strong as ever.
With new faces, we are ready to bring home more titles. The KYSJDC is one of the many events that sets KYS apart from the rest, a unique experience that only can be offered within the KYS community.