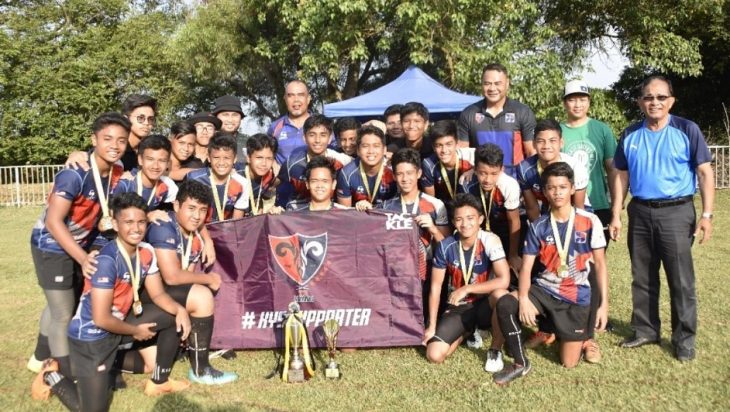 Be the first to get latest stories.
Follow Cemerlang's Telegram channel.
Rugby. A sport which instils discipline and sportsmanship in an individual, while building other values which are priceless to growing adolescents, primarily, high-school students. To be even more specific, us, the students of Kolej Yayasan Saad. The opportunity to be able to even play this prestigious sport is something to be accredited to our founder, Tan Sri Dato' Wira Halim Saad, and the management of the school.
Moving on to the main intent of this article.
On the 17 April 2019, the KYS U-15 team which consists of members of batch Invicxus (Form 3's) and 1822 (Form 2's), adjourned to SMS Muzaffar Syah (MOZAC) for a competition to determine the best team in Melaka. Going into the battlefield, it was obvious and crystal-clear that all of us were anxious, but we braved the waves of doubt and walked with our chests up. We were ready to vanquish any team which came to us as adversaries, we were ready to prove the doubters wrong, we were ready to overwhelm the demons that have been holding us back. We had lost 2 years ago, but this time, we would not be stopped.
The loud and dominating voice of Mr Muhamad Rat shook our spines as he demanded we look alive as we had reached MOZAC's field. We changed our clothes as fast as possible after a quick briefing from Mr Muhamad Rat, and began our pre-game training. We were playing in the second game of the tournament, so there were definitely feelings of nervousness and doubt buried deep beneath the masquerade of our masculinity. As we progressed through our training, more and more teams started to appear. It was surreal, as everybody was bigger than us, every single one of them. One of the first teams to appear were the Vipers, our long-time rivals. The next team to arrive shook us to our core, SMK Munshi Abdullah walked to their tents, towering us as if they were juggernauts. It was evident that we were quivering in fear. Before we knew it, the sound of the referee's whistle rang in our ears. We strutted into the field, hopes high, as we faced Vipers.
We were shaken at first, as to how much they improved, which was testament to our training which slowly but surely paid off. In the end, via a broken-down play where both teams were not ready, a penalty was taken quickly, of which the ball was offloaded to Aftab Ramizi, who strolled in for an easy try. Just like that, our first game ended, where we claimed the win. After a few comments from Mr Muhamad Rat and the team captain, Mirza bin Marzuki, our second game was inbound. We were going against SMK Telok Mas, a fairly unknown team to us, but not to be underestimated. In the end, after a valiant effort by both teams, the game ended with a score of 17-5. This allowed us to proceed into the quarter finals as group winners. Ending on a high, we were definitely happy with the outcome. Suddenly, we came across a team which were fairly unfamiliar to us, MRSM Alor Gajah, better known as JUMBO. After a miracle try scored by Tengku Nuqman, the inside centre, the Rammers held on to the 5-point lead till the very end. Fortunately, we had prevailed as winners. Unfortunately, we were facing the colossus of U15 rugby in Melaka, Munshi in the semi-finals. Stepping into the field, we required nerves of steel to tame the feral beast. Starting the match, each player from Munshi looked solid. Stemming from a line-out was the start of the uprising where a try was scored from our 22-meter line. After that, it was tries-galore. Munshi did manage to score a try, but the final verdict was 29-5, the win going to Rammers.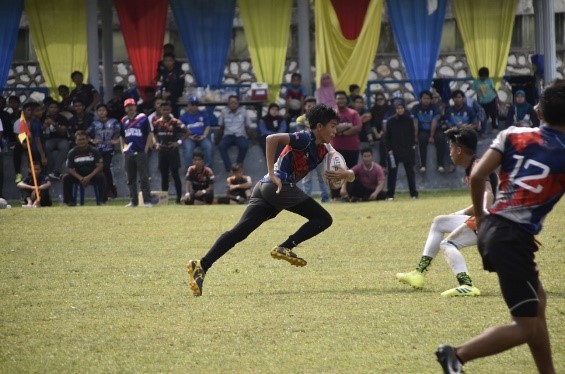 At this point, we were in uncharted territory, facing an enemy hailed as a worthy opponent by all schools in Melaka. MOZAC stood in our way like an immovable object, testing our rugby skills and critical thinking in the ever so famous final. The only try of the game came from a key pass by Tengku Nuqman, yet again. Once more, Aftab Ramizi strolled into the try-scoring area. Missing the conversion, we were definitely quite anxious in "parking the bus". Nevertheless, we managed to hold on, and attain a 5-0 score against MOZAC and retain the title "Champions of Melaka" after years of wait.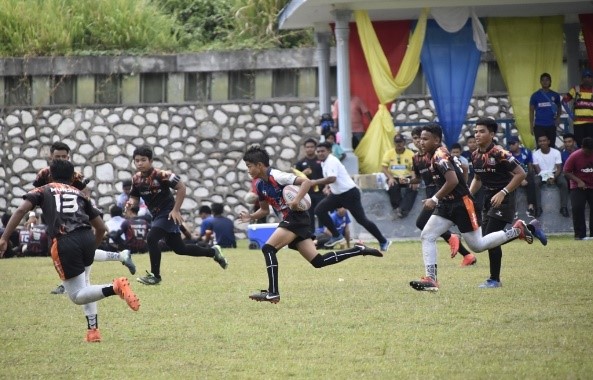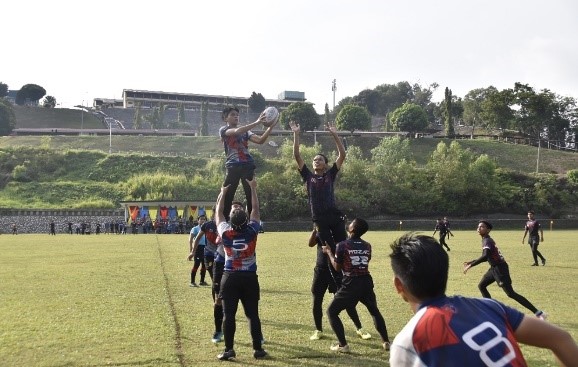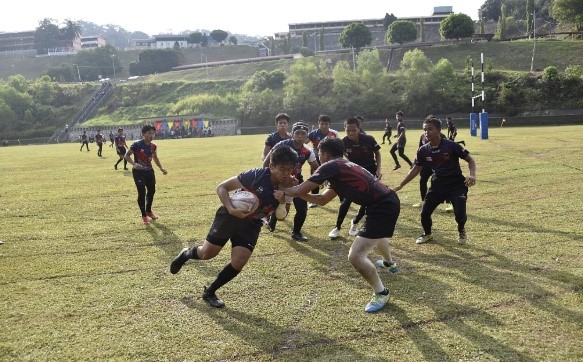 It was our first tournament win ever, which had everyone involved in the project directly or indirectly to feel ecstatic for us. Becoming a benchmark for our success, the MSSNM Rugby 2019 definitely was an event which will never be forgotten by anyone in the team. Special thanks to the founder of Kolej Yayasan Saad, Tan Sri Dato' Wira Halim Saad, for enabling this event to happen. A million thanks to Mr Tan Cheh Li and the management of Kolej Yayasan Saad. Not to be forgotten is definitely our coaches and teachers, specifically, Mr Muhamad Rat bin Kasim, Mr Mussolini Magele, Mr Zulkhairi bin Ishak, Mr Wafi bin Kamarudin, as well as Mr Mohamad Faris bin Mokhtar. Lastly, thank you to all parents who had a hand in the project directly or indirectly. To conclude, we hope that we can maintain our prominence and success all the way to Kejohanan Ragbi Malaysia at Terengganu in November.