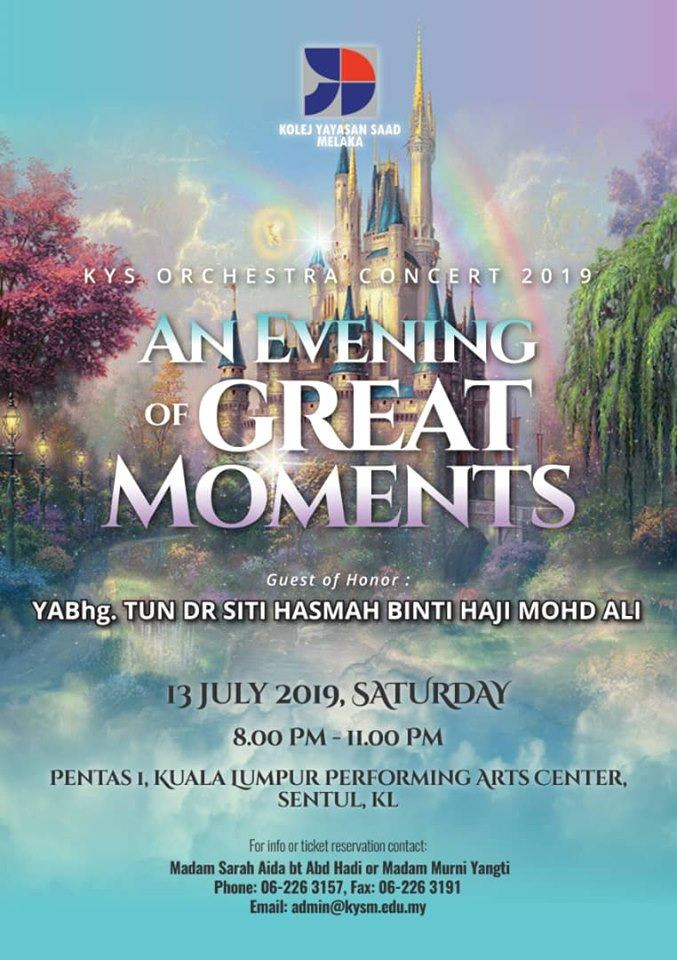 An Evening of Great Moments left the audience bursting in tears, reminiscing their childhood and singing along to the beautiful music the KYS Orchestra presented. It was magical. However, the real magic comes from the members themselves...
On 10th of July, the KYS Orchestra and the KYS Junior Orchestra headed to Kuala Lumpur for their performance at the Kuala Lumpur Performing Arts Centre, also known as KLPAC. The theme of this year's performance is "An Evening of Great Moments". We departed from KYS at around 8:30 a.m. and went straight to KLPAC for our rehearsal. We arrived at around 11:00 a.m. and immediately unpacked our instruments and equipment as well as setting up the stage. Then, we had a quick lunch and proceeded with sound check and rehearsals. We played our best in hopes for a good performance the next day. After a tiring day, we headed back to the hotel around 7:00 p.m. to get some shut-eye and regain energy for a long day ahead.
The next day, we woke up as early as 5:45 a.m. to get ready for the upcoming matinee performance. After breakfast, we went to KLPAC to start our light rehearsal. After the rehearsal, we ate lunch and changed into our uniforms.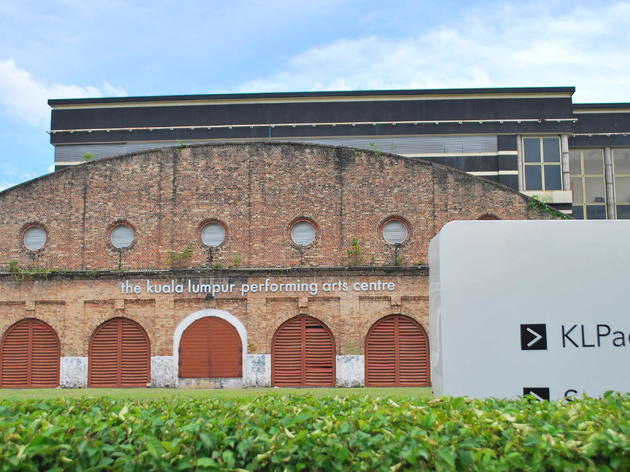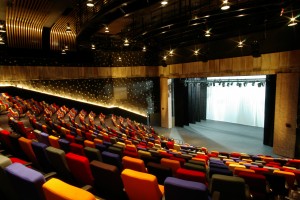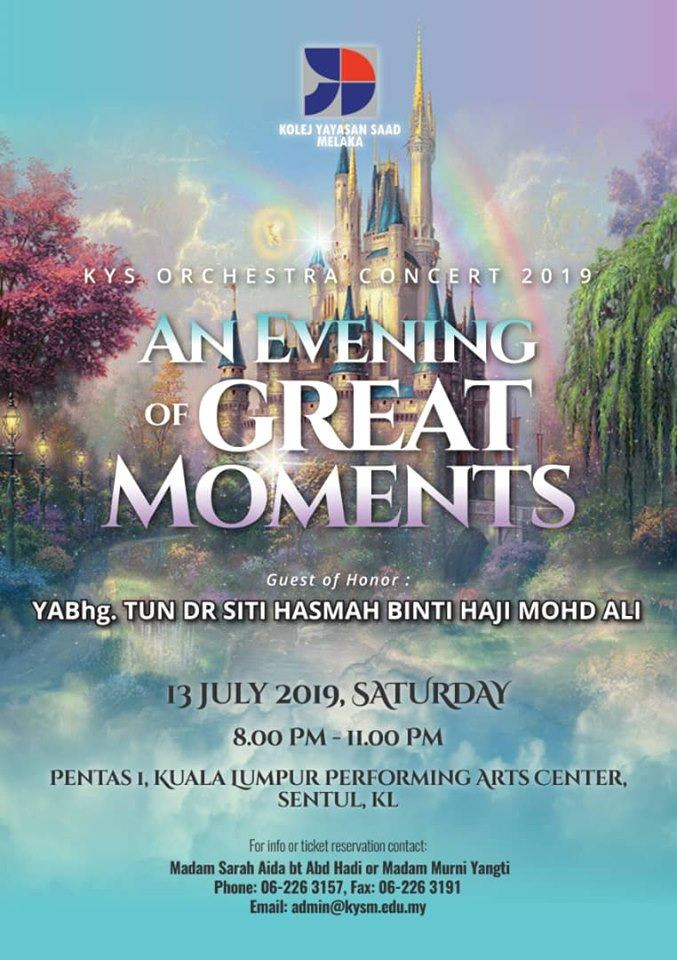 ""Lion King? You'll Be In My Heart? The Colours of The Wind? ALADDIN? Take my money!" -a very excited student of Kolej Yayasan Saad
All of us were quite nervous for our performance, but with the prayers led by Arief Zuhaily, we managed to keep our cool throughout. In the end, we were satisfied with our playing. We had a short break after our matinee concert and then continued with our rehearsal at night. It was a very tiring day, but we had our heads held up as we had one more performance that we were looking forward to, which is the Gala performance on Saturday night.
On Friday morning, we were treated with a brief trip to KLCC to cool off after the hard work on the previous day. After the boys came back from their Solat Jumaat at Masjid Asy-Syakirin, KLCC, we returned to KLPAC for rehearsal to polish some pieces before our full concert run-through at night. There were also members of the KYSER Band who came to have their sound check and rehearsal. After everything was set, we had our full concert run-through including the KYSER band. Fortunately, everything went well and we were more excited to perform the next day. We returned to the hotel that night with tired but smiling faces.
The long-awaited day has finally arrived. We woke up early in the morning before going back to our performance stage. We had a few light rehearsals with the protocol and then returned to the hotel to get proper rest before our big night. We then changed into our orchestra uniform and returned to KLPAC one last time with racing heartbeats. We were really nervous before the performance, and seeing the audience seats full definitely did not help. Fortunately, we managed to keep our focus up to the last note and were able to put up a good performance. We started off with the KYS Junior Orchestra which played 3 pieces namely, "Be Our Guest", "Moana" and "Pixar Movie Favourites". After that, the KYS Orchestra was welcomed to the stage and played "Mulan", "The Little Mermaid" and "The Lion King". The intermission lasted for 20 minutes before KYSER Band stepped onto the stage and performed a few songs. Soon after was an exclusive performance from the KYS Chamber Orchestra to showcase some of the pieces they had performed at Japan, which were "Toy Symphony" and "Coco". This year is the first year the KYS Chamber Orchestra performed in the gala concert. Then, the KYS Orchestra performed "Go The Distance", followed by "The Colours of the Wind" which was sung by our very own Khadra Azrul, while the orchestra accompanied her. "You'll be in My Heart" was performed next and it touched the hearts of many. Next up was "Aladdin". This piece excited everyone as the live action film was out recently. "We're All in this Together" was performed next by both KYSJO and KYSO. The KYSJO members happily danced along to the song and sang it together with Karlyssa Lana and Jad Alfa. It marked the end of our performance, but there was a special request from the audience for another piece from the KYS Orchestra. Our founder, Tan Sri Halim Saad gladly welcome an encore from the orchestra. Our encore piece for this year was "Les Toreadors" from Carmen Suite No. 1, composed by Georges Bizet. The concert ended with the happy tunes of "Rasa Sayang" which never fails to be our ending piece. The audience gave us a standing ovation and that really put a smile on our faces. After the performance, we immediately packed our things and loaded it back into the truck and bid farewell to KLPAC. The next day, we had our breakfast before checking out of the hotel and headed back to KYS. It is hoped that the next generation of orchestra members will be able to enjoy their performance as much as we enjoyed ours. It was An Evening of Great Moments indeed.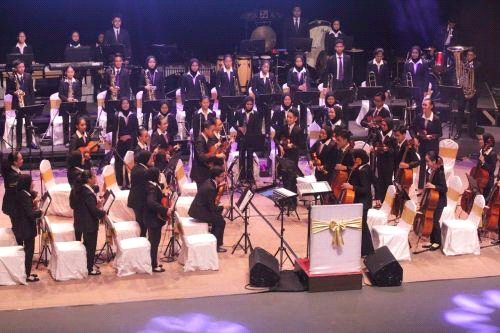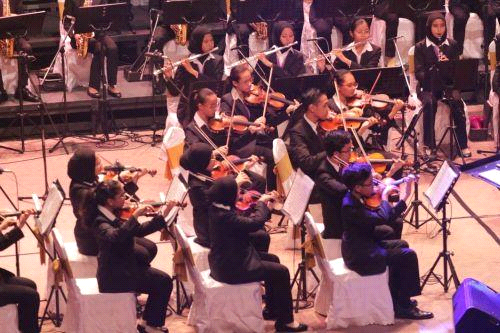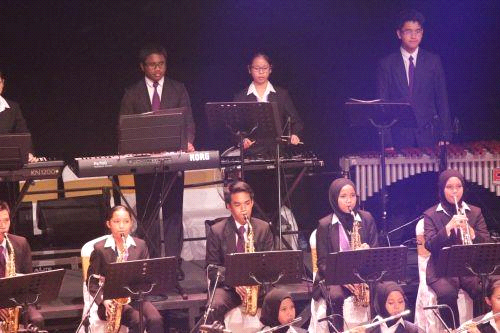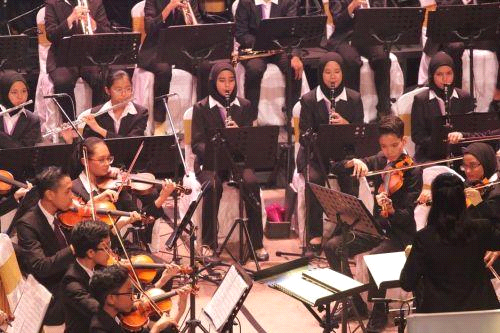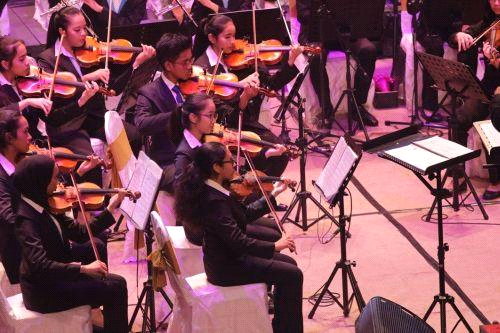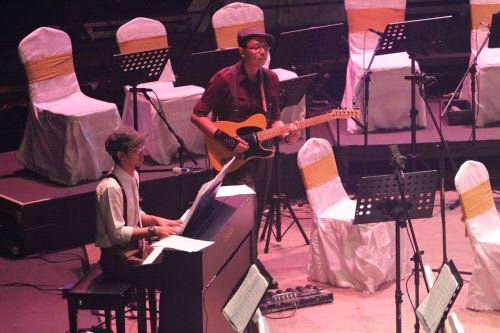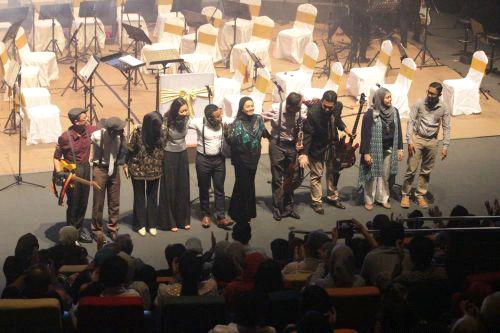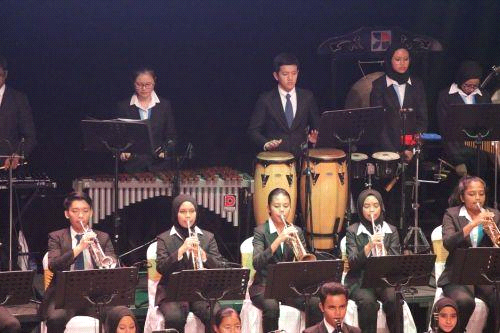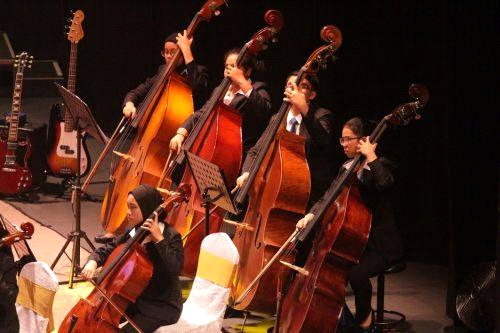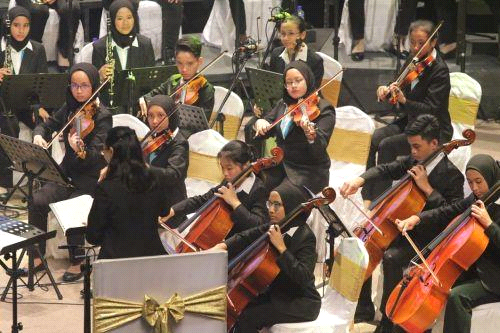 Love the orchestra? Love singing or playing instruments? Love music? Send your articles, photos, videos, podcasts, stories and music videos to [email protected] to be featured on our website!