The Ultimate Guide: ICAEW vs ACCA vs CFA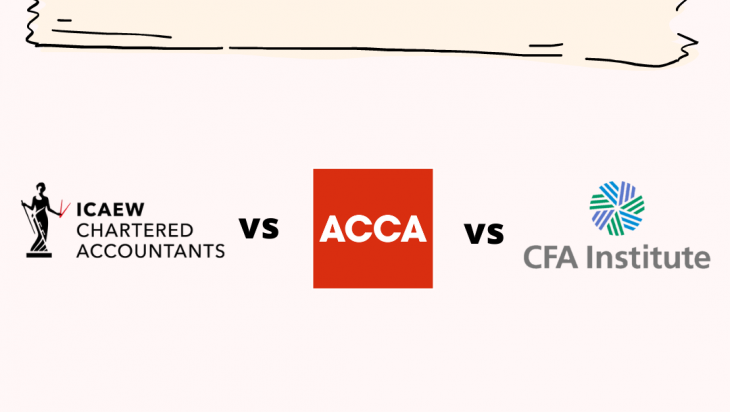 Be the first to get latest stories.
Follow Cemerlang's Telegram channel.
Stay updated with the latest intriguing stories for high achievers by following our Telegram channel here.
There is no doubt that professional papers have become increasingly popular amongst young corporates in Malaysia; whether it is a junior engineer who aims to become a professional engineer with an 'Ir.' attached to the front of their name or junior auditors who one day want to be chartered accountants with the 'ACA' title attached to the back of their name.
Whilst there is a vast array of professional qualifications out there that one can pursue, this article is dedicated to those who are in the accounting and finance industry, contemplating between which of these three papers they should pursue: ICAEW ACA, ACCA, or CFA.
The aim of this complete guide is to provide a one-stop platform for readers to compare the merits and structure of each one of the three professional papers mentioned above. This guide will help to condense and summarise all of the information available on various blogs, websites, and social media out there.
Whilst this may come in handy for our readers, we highly recommend you to take much deliberation before deciding if one of these three papers are aligned with your career goals. Speak to your manager, mentor, family, and friends to get a wide range of perspective and opinion before you choose to make a commitment.
---
To kickstart the discussion, we have the ICAEW ACA qualification.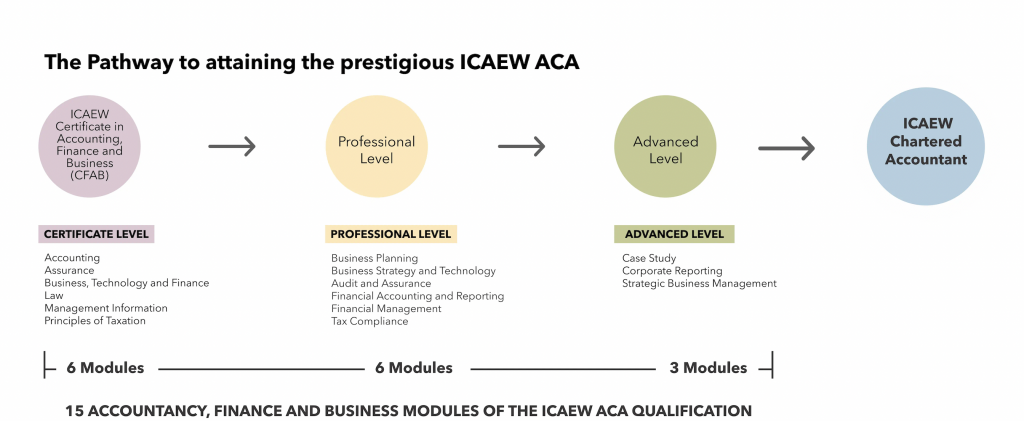 To be admitted as an ICAEW member, applicants must have acquired 450 days of relevant work experience and pass a series of examinations. Training is undertaken with one of ICAEW's 170 Authorised Training Employers (ATEs), which includes the Big 6 accountancy firms (Deloitte, Ernst & Young, KMPG, PwC, BDO, Grant Thornton), Petronas, CIMB, Maybank, Genting, Sime Darby, Tenaga Nasional, Securities Commission, Bursa and many more.
ATEs are only admitted into the ACA programme after they have been assessed by a global panel that ascertained they meet the high standards required by the ICAEW. So, before you decide on whether ICAEW is the right choice for you, make sure you check with your manager or HR to see if the company you are working at is an authorised training employer recognized by ICAEW.
For readers who have just graduated high school or college, you can also opt to enrol in the ICAEW course at Sunway College if you think a 3 to 4 years degree is not for you!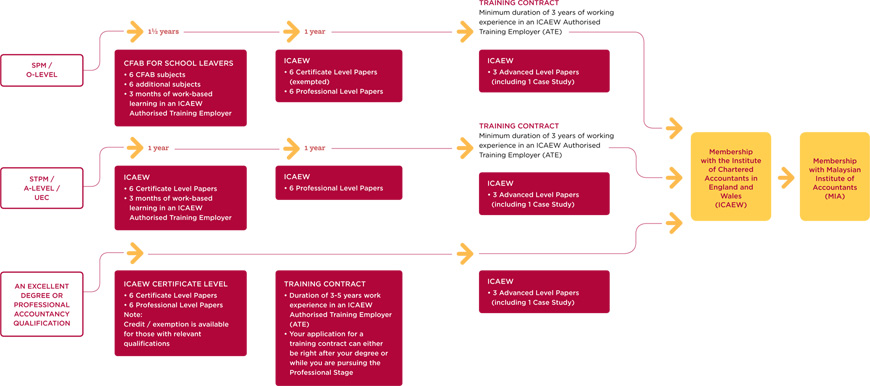 The total cost of obtaining the ICAEW qualification ranges from £1850-2000 (MYR 12,500) inclusive of the annual student fees, exam fees and book fees. The total cost calculated excludes any additional tuition fees by certified learning providers such as Kaplan which charges up to £400 (MYR2200) per module.
This can easily go up to approximately £2400 (MYR13,200) for the six certificate level papers. However, do note that most of these expenses are usually covered by your employer if you enrol in a specific program tailored by your company.
Now we come to big question,
Why ICAEW?
Having interviewed Wei Yuen Loh, Head of ICAEW Malaysia, here are the key points and highlights on why she recommends young working professionals to consider pursuing the ICAEW ACA:
ICAEW is able to boost your career prospects by equipping you with strong accounting and business knowledge. The comprehensive set of tests and rigorous trainings will drill you to not only be a chartered accountant, but a holistic business leader.
Accountancy is an important skillset which all business leaders must have no matter which industry they are in. In order to manage a business efficiently, a CEO or CFO must be able to scrutinize financial statements and understand the fundamentals of the company. They need to be able to detect any weaknesses which the company needs to address or strengths which can be exploited.
Pursuing the ICAEW ACA is good training for fresh graduates especially. There are a lot of transferrable skills (not just accounting) which will be useful later in your career as you move up into a management position.
ICAEW ACA is an employer driven qualification. By partnering up with authorised training employers, ICAEW can ensure that the trainings and resources provided to the candidate is up to industry standard. Furthermore, the syllabus changes every year and is structured by consulting employers and industry experts to ensure that the learning materials are up to date with current development in the industry.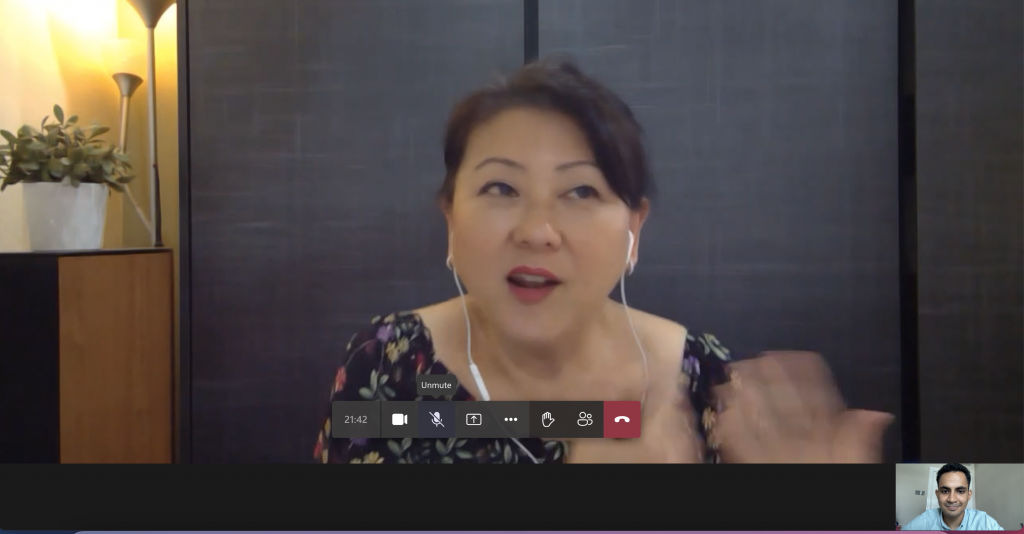 In fairness, these merits are also applicable to the ACCA and CFA qualifications, with the exception that the CFA is not an accountancy-based qualification and is more investments focused.
Here are some of the more hard-hitting questions asked during the interview:
Given the growing popularity of ICAEW ACA, will there come a point where it becomes too mainstream or diluted just like how degrees are nowadays? Should young working professionals opt for other niche qualifications instead?
Employers are looking for people with the right skill sets rather than looking at your paper qualifications. ICAEW ACA trains you to be a chartered accountant. This is a 'hard skill' which is universal and applicable to whichever company you join around the world.
Unlike a degree, ICAEW ACA is not an academic qualification. It trains you to acquire accounting and business skills in a real work environment. Hence, whatever you learn from the ACA will never become obsolete as the syllabus is updated every year. You will even have opportunities, after finishing your ACA, to attend workshops and seminars to keep your knowledge up to date.
Can non-accounting students pursue the ICAEW ACA?
It will be more challenging if you are a non-accounting graduate, but it is definitely not impossible. There have been countless of engineers, lawyers and even doctors who have completed their ICAEW ACA qualification and became chartered accountants.
Which is better, ICAEW ACA or MBA?
ACA is a professional qualification whilst MBA is an academic qualification. It's like comparing apple and oranges. Pursuing the ICAEW ACA however is a lot cheaper than an MBA and you do not need to take a career break in order to complete the qualification.
*Author's own remark: Here is a good article for you to read on the comparison between these qualifications
What are some of the hidden merits of ICAEW which is not obvious to the public?
The ICAEW ACA is not an exam-based qualification, it is a professional membership-based qualification. Even after getting your chartered accountant status, the ICAEW body acts as a good support system for your career growth and development. You are placed in an organisation with like-minded people, with a network of opportunities which are invaluable.
Wei Yuen said that getting the qualification is more than just a three-year journey. In hindsight, having completed the qualification herself, it is what comes after which proved to be useful. ICAEW will help to support your career growth in the next 30-40 years no matter which company you moved to.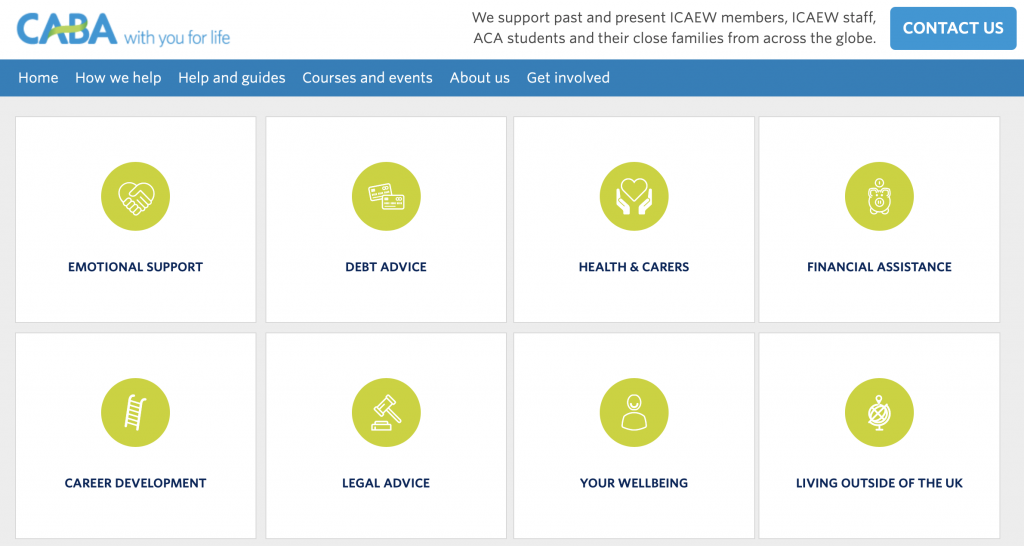 Wei Yuen also highlighted that ICAEW is one of the few professional bodies which supports the welfare of its members. Through the Chartered Accountant Benevolent Association (CABA), members and event ACA students can get various type of assistance through the CABA website.
---
Next, we have the ACCA qualification.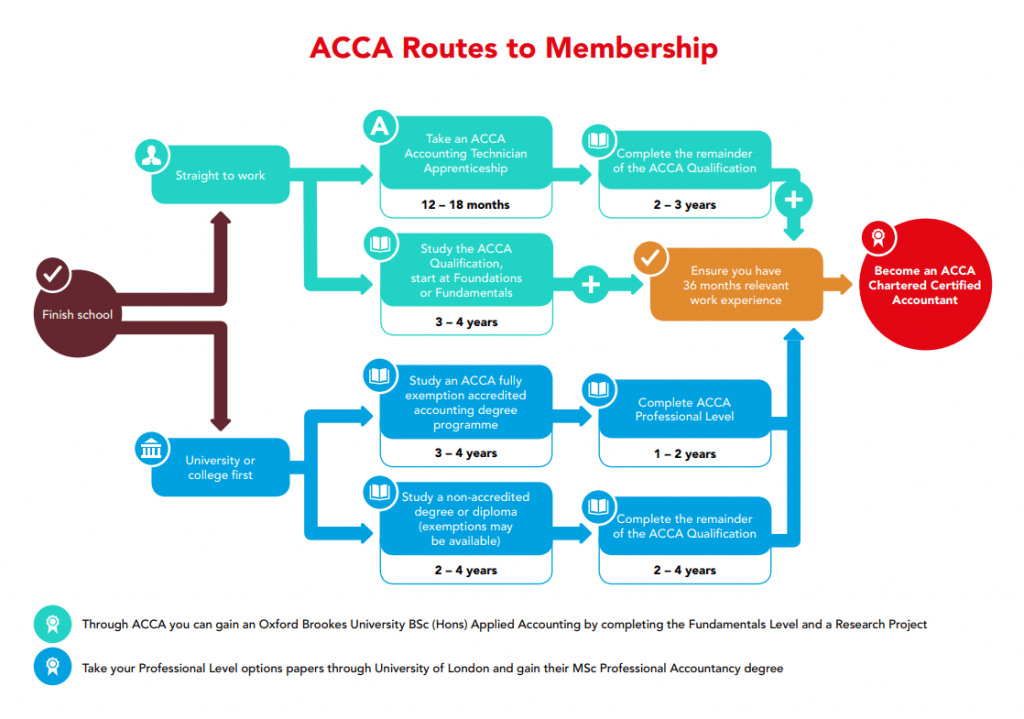 Students progress through three elements of the ACCA Qualification on their journey to ACCA membership, these are:
ACCA Exams
Ethics and Professional Skills Module
A Practical Experience Requirement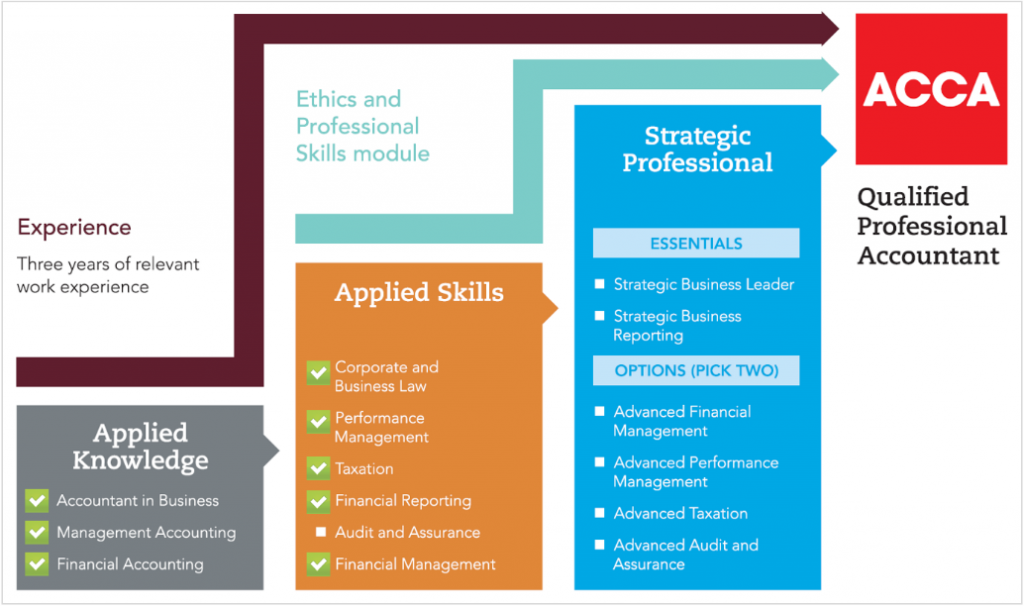 How much does an ACCA qualification cost?
The overall cost of the ACCA course lies in the range of RM6,600 and RM11,000 which includes a registration fee of RM500 and an annual subscription of RM616. Tuition fees range from RM15,000 to RM40,000, depending on the institution. The spread in the overall cost is due to the huge variation in exam fees as well as exemption fees.
How long does it take to complete ACCA full-time?
Most students take 3-4 years, but you have ten years to complete the qualification. You can either study full-time or study part-time while working.
If ICAEW ACA and ACCA are both accountancy-based qualifications, how are they different?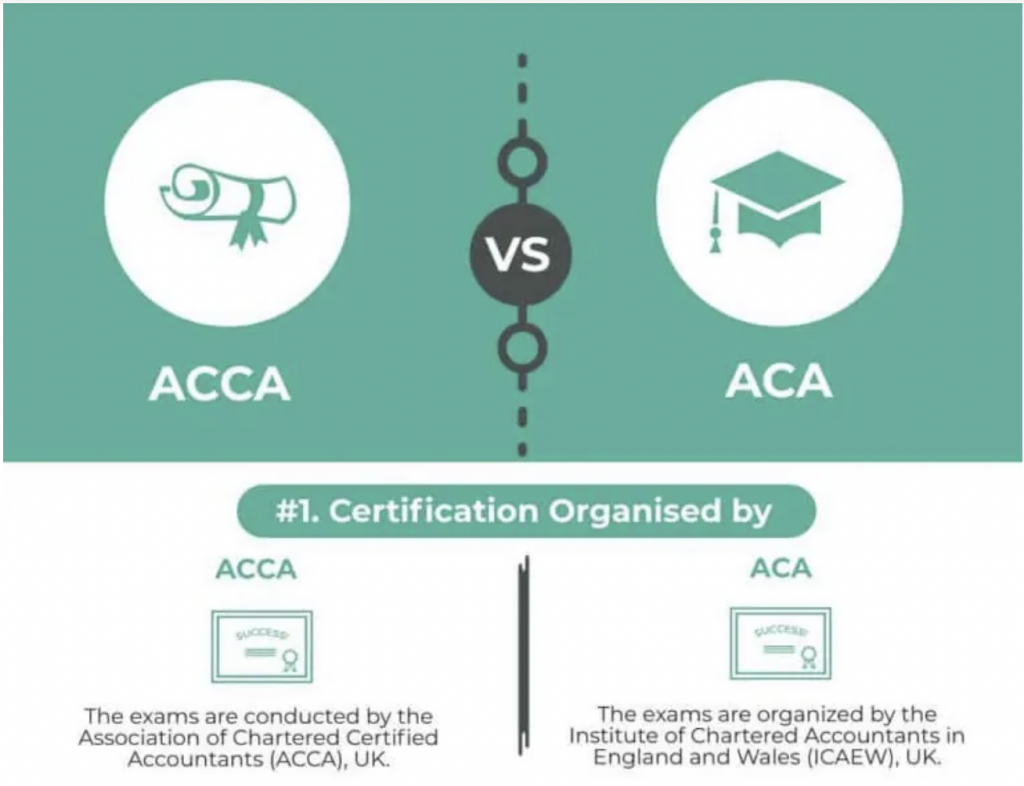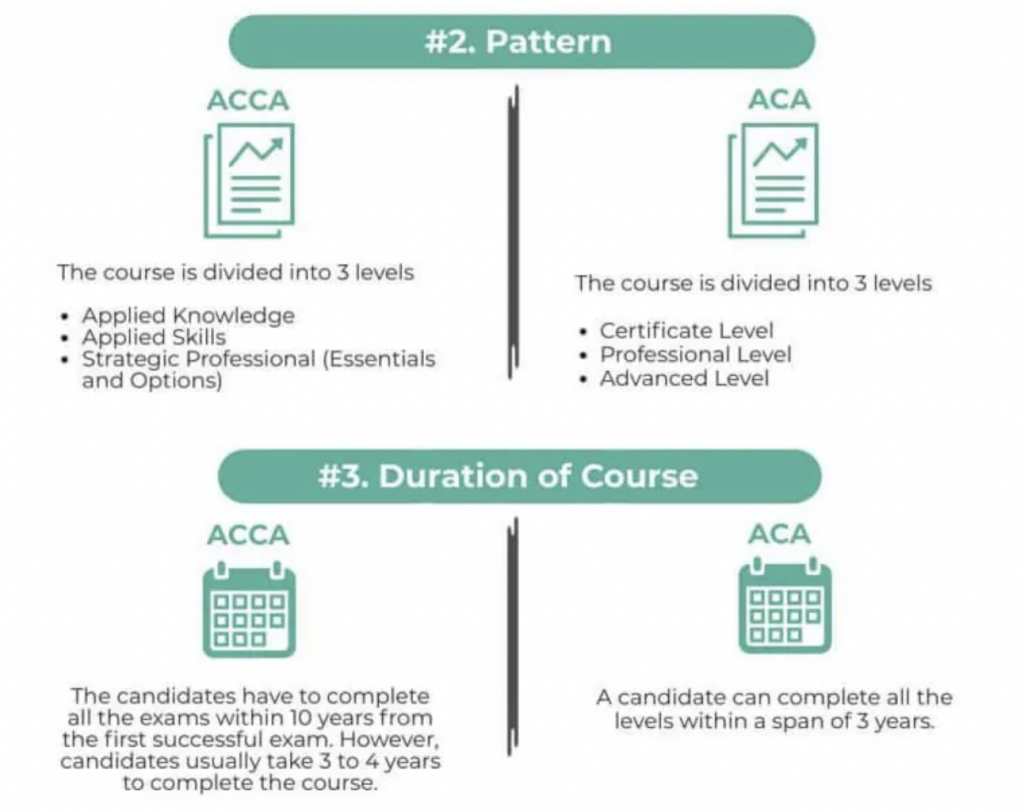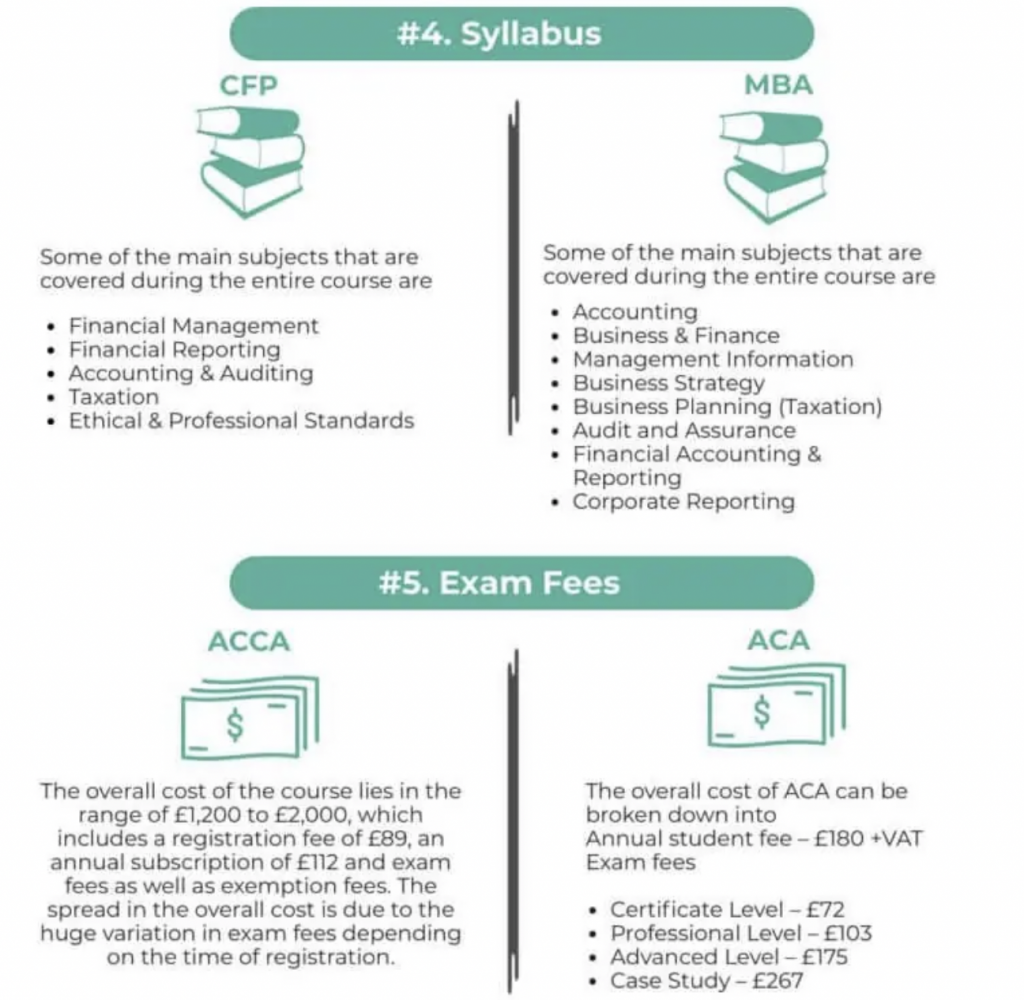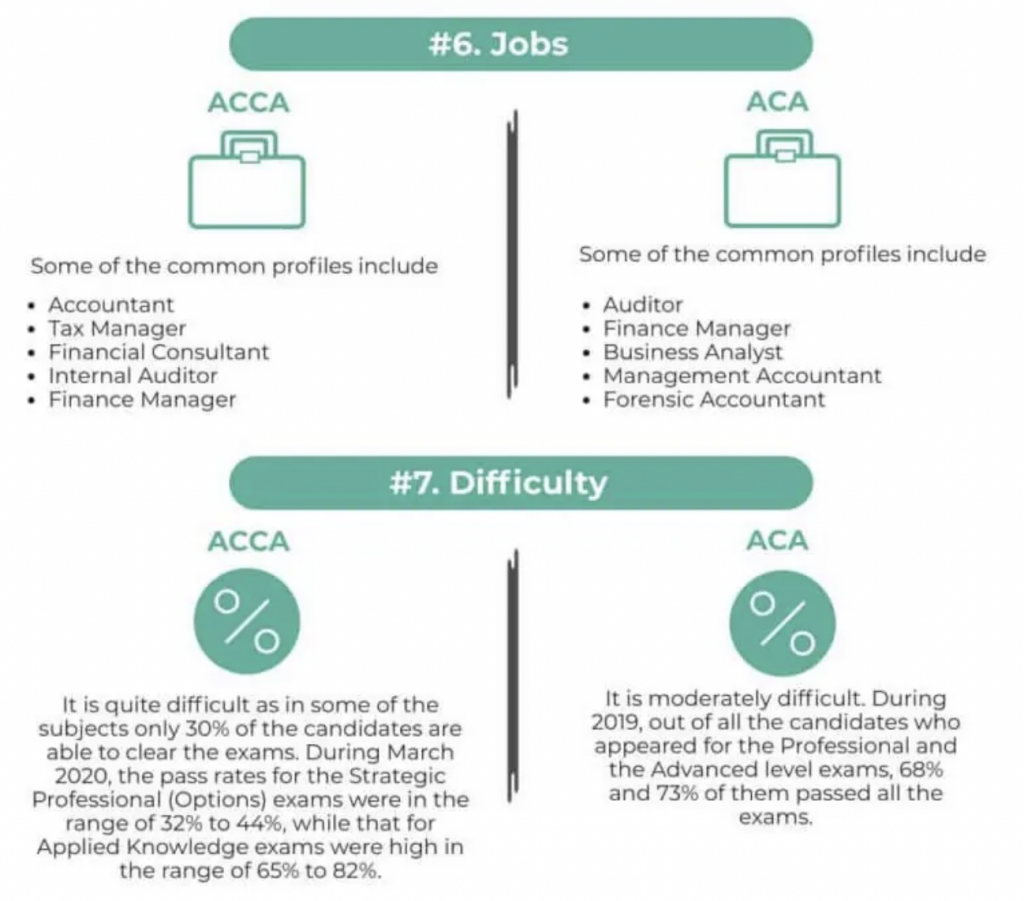 Based on our rudimentary research, many students expressed their view on how the ICAEW format is more challenging than the ACCA (questions less structured, longer scenario-based questions to deal with, greater time pressure and no optional questions). There have also been instances where students switched from ICAEW to ACCA halfway through; it is less common the other way around. However, the difficulty of these exams are quite subjective and you should not be too quick to generalise this perception. While it may be true for some, this may not be applicable to you!
---
Last but not least, we have the CFA.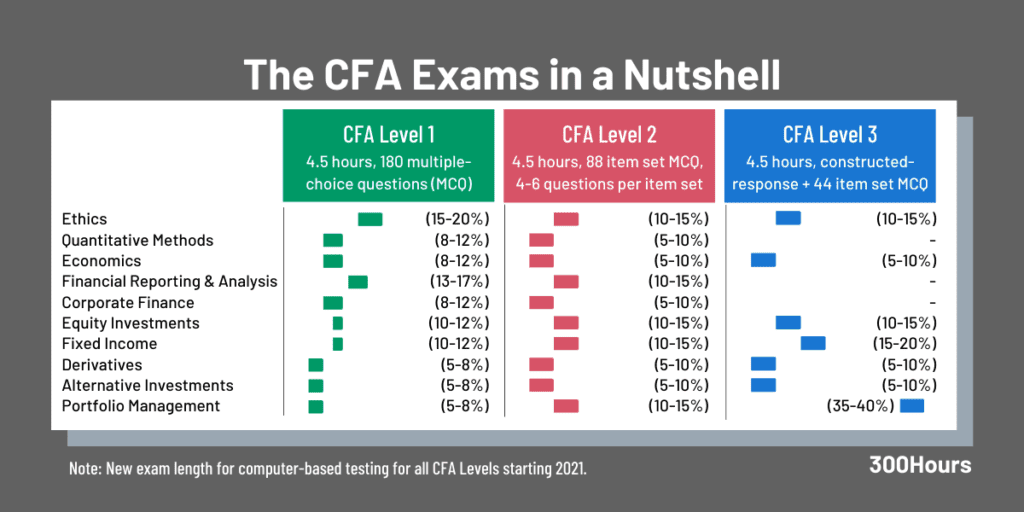 The CFA Institute offers several education programs and certifications, with the CFA designation being the most recognized. The CFA program provides a foundation in portfolio management and investment analysis skills and is the professional standard of choice for over 31,000 investment firms worldwide. Neatly structured into three levels of varying formats, the CFA exam is regarded as one of the most difficult exams to pass in the professional working world.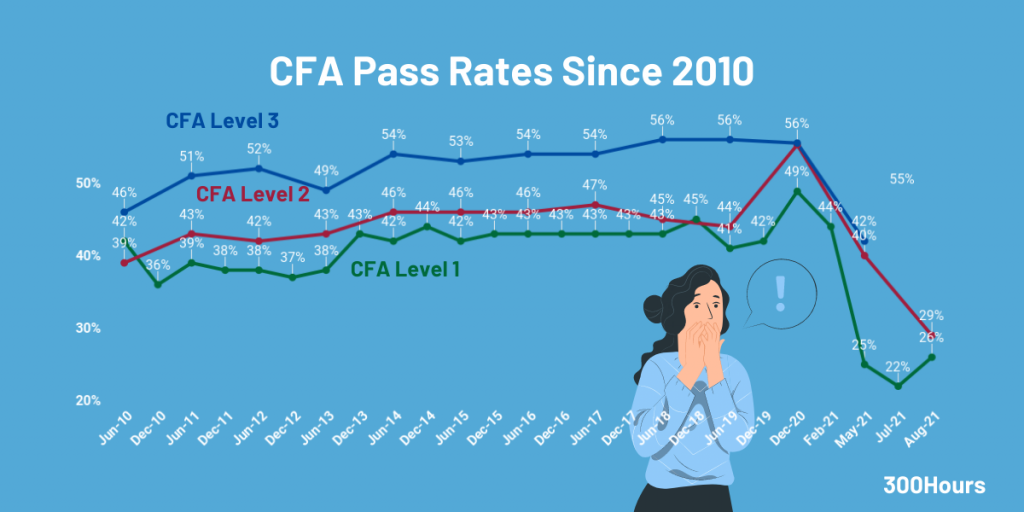 If the CFA exams are so difficult to pass, why has it become very popular in recent years?
Quoting Financial Times on the credibility of attaining a CFA: "Among the countless finance degrees around the world, the Chartered Financial Analyst qualification has become the gold standard.CFA is known to be the most prestigious and valued qualification in the finance and investment industry. People widely understand and know the intense process that candidates need to go through before getting the charter. This makes it easier when stepping into the industry, as CFA charter holders gain instant recognition and respect, making it easier for them to take up interesting roles or positions.
Openings in areas such as asset management, hedge funds, fixed income, equity research etc. are more suitable to CFA charter holders as well and companies in these sectors are more likely to hire you if you have the CFA qualification.
CFA is also said to be more more time and cost-effective than an MBA program. On one hand, getting a CFA qualification is certainly valuable to any professional who wants to get into the investment banking environment. On another, it is also more effective to an individual who does not have the time or the resources to go through a full-time MBA program in a top-tier university.
There have been some debate on the internet however on whether the MBA is better because you get to solely focus on your education rather than juggling both work and study at the same time. The proponents of CFA however argues that getting the job experience alongside your education is always better because you are faced with real life business problems. Investopedia has published a useful article on whether an MBA or CFA is better for a career in finance.
How much does the CFA exams cost and are there any scholarships available?
The cost for the CFA Level I exams are as shown below. This does not include the one-time enrolment fee of US$450 when you register for CFA Program and the Level I exam. This fee will not be applied to subsequent exams. All fees must be paid in US dollars.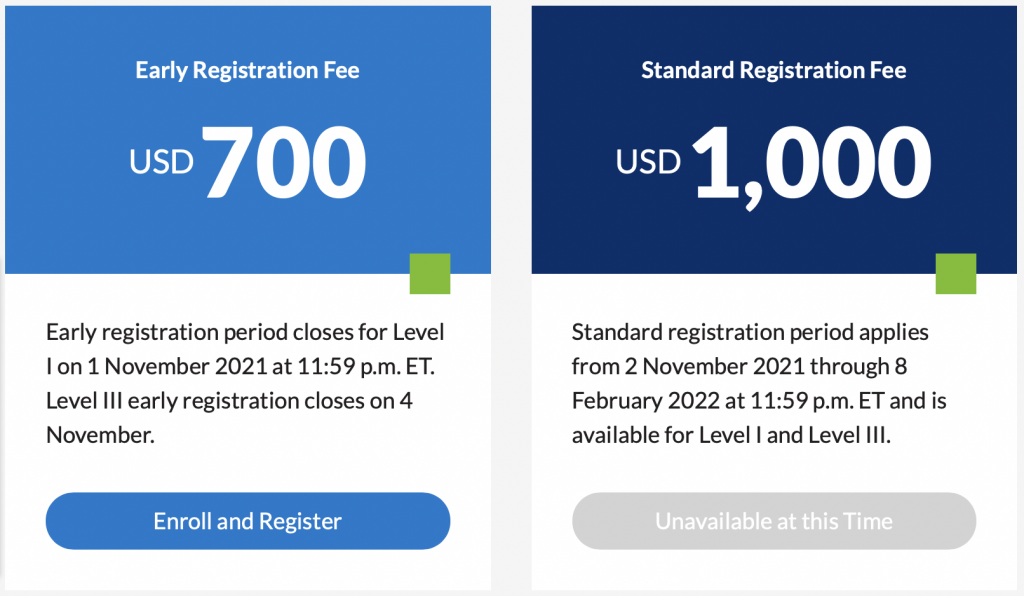 CFA Institute Malaysia and Yayasan Peneraju do provide scholarships and bursaries to those who wants to pursue this qualification, albeit, at a limited number of spots each year. Do check with your employers if there are any sponsorships available as well since most companies usually do provide financial assistance to their employees.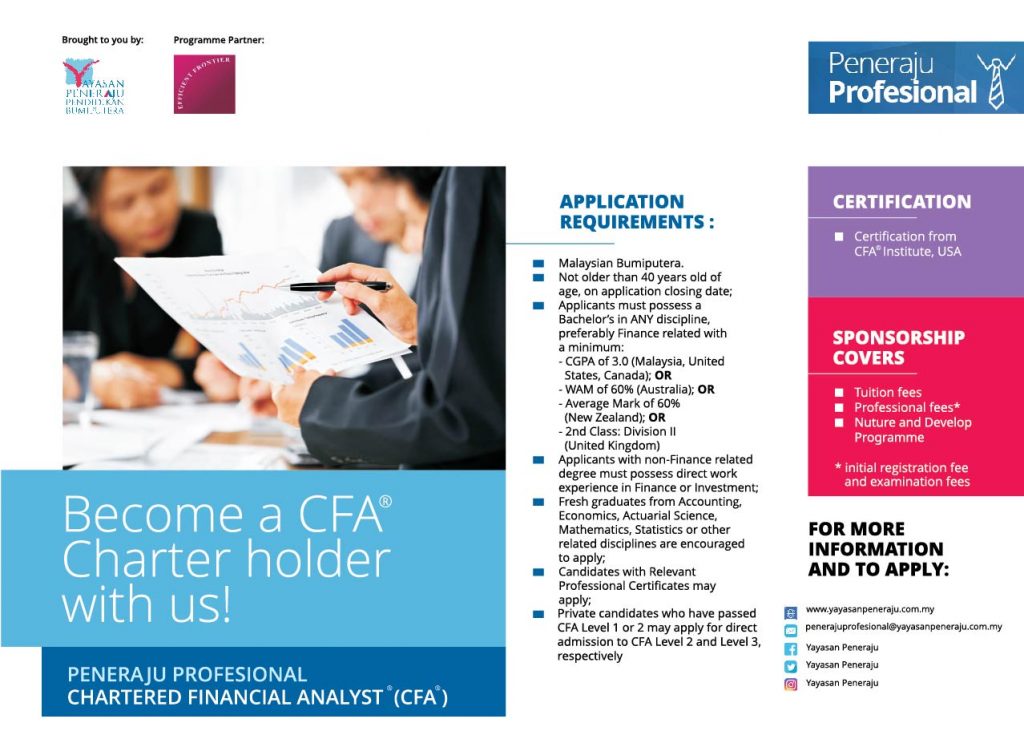 How do I prepare for the CFA exams and make sure I pass the first time around?
When you sign up for the CFA exam, you will receive a pdf and e-book of the curriculum which you should use as your core study materials (CFA Level 1 exams has five volumes with ~500 pages each). However, there are multiple resources available online from various tuition providers which provides a summarised version of the notes – the most famous one being Kaplan Schweser which offers study packages ranging from US$700 to US$1000. Most CFA students have vouched for the notes provided by Kaplan mentioning how it has helped them pass the Level 1 exams with ease. Others strongly encourage you to read the core curriculum instead so that you get a more holistic and concrete understanding of the topics.
300 hours is a good blog to follow for those who are interested to read up more about the CFA. They have various articles discussing pertinent issues related to the CFA exams and qualification. The website was named after the number of recommended hours each CFA students need to put in for them to pass each level of the exam.
Last but not least, it is highly recommended that CFA students complete as many mock exams as possible and practice using the question bank (~3500 questions) provided by the CFA institute once you are registered for the exam.
Recommended CFA mock exam target scores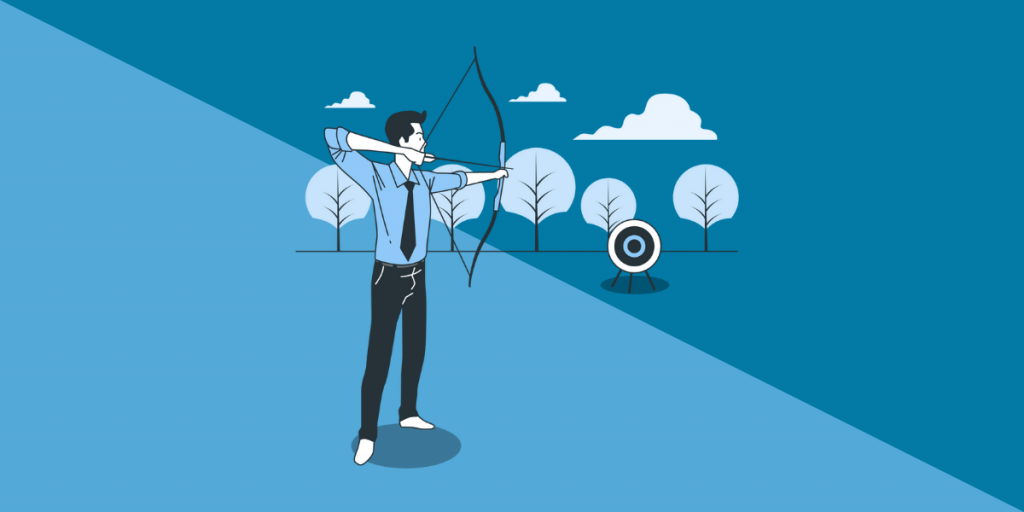 CFA Level 1 mock exam target score: 75% and above
CFA Level 2 mock exam target score: 70% and above
CFA Level 3 mock exam target score: 65% and above
---
In conclusion, it is very difficult for us to say that one professional qualification is better than the other as it depends on a myriad of factors. Our advice would be to choose one which is best-suited for your career path and goals. Discuss with your manager first before opting for a professional qualification and check if there are any study leaves or financial assistance provided by your employer which can help smoothen your journey towards becoming a chartered professional!
Studying while working is an extremely difficult and tiring thing to do so make sure you think carefully whether this is really what you want to do before committing to it. All the best and hopefully this article has managed to provide you with a good overview of the ICAEW ACA, ACCA and CFA qualification for you to consider.