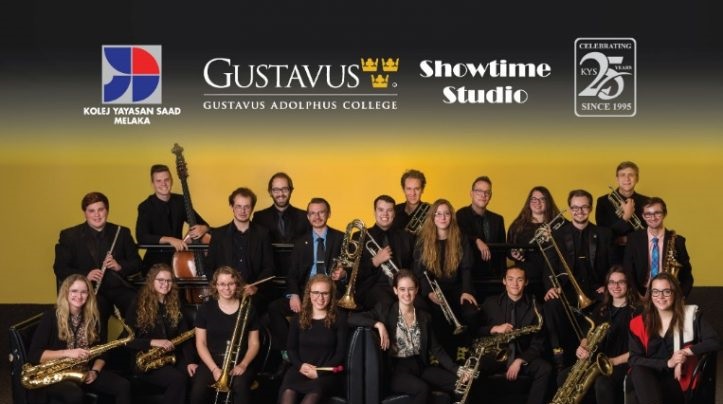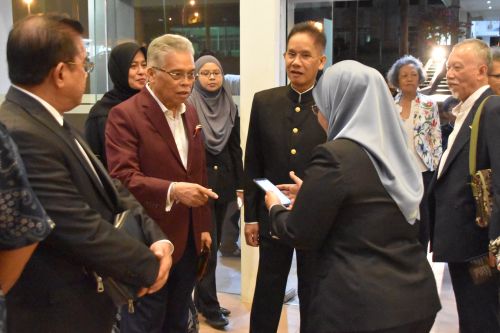 On 3 February 2020, Kolej Yayasan Saad opened its doors to the delegates from the Gustavus Adolphus College, Minnesota, USA. The Gustavus Symphony Orchestra and the Gustavus Jazz Ensemble had their concert right here in the KYS Great Hall as a part of their 2020 International Tour to Singapore and Malaysia. Apart than KYS, they also performed at Aswara Academy, Kuala Lumpur, Ipoh and Penang.
They arrived in KYS at around 2 p.m. and the school held a grand welcoming session with their students inside the Great Hall. An opening angklung performance by siblings Amirah Maisarah and Amirah Aqilah, was astounding. They performed two songs on the angklung –Amirah Maisarah performed "Into the Unknown" from Disney's animated movie, Frozen. Then both sisters performed "Kun Anta" a song made popular by Khumood Alkhudher. This performance introduced the students and lecturers from Gustavus Adolphus College to the angklung, a traditional musical instrument. Our visitors were delighted by the performance.
Following the agenda, Mr. Tan Cheh Li addressed our guests with a welcoming speech. He explained the academic programme and music education programme in KYS. He introduced the Gustavus students to KYS Orchestra by showing them a video of our 2018 performance in KLPAC, where the orchestra rendered an excerpt from Gioachino Rossini's "William Tell Overture"; this was followed by a Q & A session.
Moving on, the Conductor of the Gustavus Symphony Orchestra Dr. Ruth Lin, and the Director of Jazz Studies, Dr. Dave Stamps made a presentation about Gustavus Adolphus College – the courses available, the environment, and the music education there. One interesting fact about the Orchestra and Jazz ensemble is that the students who participated are from diverse majors, meaning not only music major students are allowed to play music in the orchestra or jazz band, but also those from other majors.  
That night, Tan Sri Halim Saad, the Founder of Kolej Yayasan Saad, Prof. Dr. Azizan bin Mohd Nor, Members of the Board of Governors, KYS teachers and students donned the formal black suit for the concert. The first performance was the Gustavus Symphony Orchestra performance conducted by Dr. Ruth Lin. It was sensational. Most of the pieces that were played by the Orchestra are modern American music which may be quite alien to some of usbut surely one of the highlights of the performance that caught our huge attention was the main theme from Star Wars. We surely enjoyed that one, didn't we?
The Jazz Ensemble conducted by Dr. Dave Stamps began after a short interval. The music was invigorating, and one of the best highlights was a few solo vocal performances by the flutists in the band! -How multi-talented she was! The overall experience was astonishing, and I wish we could have this kind of international cultural exchange again some time!